Wutopia Lab crafts bookstore at 'the end of the earth'
Shanghai-based Wutopia Lab has recently completed Tianya Books, a bookstore in Hainan offering a unique scenic ocean view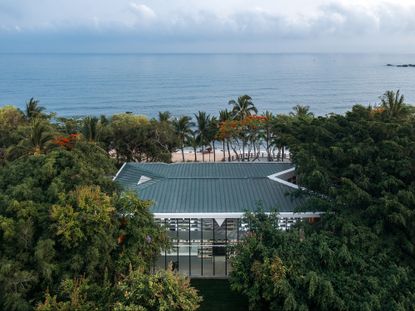 (Image credit: CreatAR Images)
Chinese architecture studio Wutopia Lab is a deft hand at what makes the perfect bookstore. Its latest offering, Tianya Books, is the third such project this year, located in the popular Tianya Haijiao beach in Hainan, China's southernmost island province. The bookstore's design is finely tuned to its site and responds to the commonly romanticised view of Tianya Haijiao beach as 'the end of the earth', often found in Chinese folklore. Through Tianya Books, Wutopia Lab playfully creates a striking panoramic view of that 'edge of the world' and the South China Sea.
The bookstore is orientated towards the sea and consists of two floors. The first floor includes a café and general reading areas, whilst the second floor encompasses a lecture hall and a children's reading space. The upper level comprises a raised central platform that seems to float in the space, leaving visitors feeling 'as if in the sea', explains the team. The remaining space includes an exhibition hall, a circulation hub, retail, custom-made book displays and seats.
Following Wutopia Lab's signature aesthetic, which encompasses flowing, seamless spaces defined by bold statements and clean shapes, structural components such as columns are strategically hidden in the bookshelves.
Building a 400 sq m glass bookstore on sand proved to be a difficult task on the construction front. Parts of the foundation had to be replaced and boosted for extra support. Rather than build directly on the beach, the architects decided to build on a coconut grove close to it.
Meanwhile, a triangle-shaped section was carefully cut through the original floor plan in order to preserve a banyan tree and respect the existing vegetation, outlining the architects' sensitive approach towards the surrounding nature and context.

Since Wutopia Lab was founded in 2012, it has completed 12 bookstores and two libraries. The studio continues to be one of the leading practices in contemporary bookstore design coming out of China. Wutopia Lab's unconventional designs elegantly balance complexity in detail and a perceived simplicity.
INFORMATION