Oslo's ambitious Deichman Library opens to the public
Oslo's latest Diechman Bjørvika Library branch throws open its doors today in the city's Bjørvika district, with a sculptural design by Lund Hagem Architects and Atelier Oslo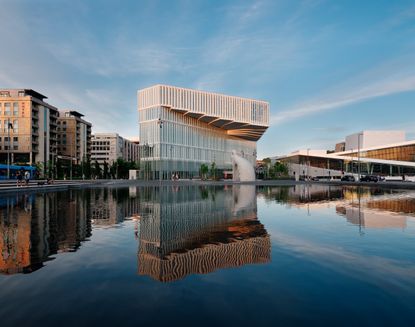 (Image credit: Einar Aslaksen)
On 28 March 2009, Atelier Oslo received a phone call that it 'would never forget'. The Norwegian firm, along with architecture and urban design practice Lundhagem, had scored a major coup: to design an ambitious new public library for the city of Oslo. Some 11 years later (and its original March launch date scuppered by the Covid-19 pandemic), the much-anticipated Deichman Bjørvika will finally open to the public today.

The architectural concept is based on a 'large, central continuous space that stretches up through the storeys,' eschewing the notion of narrow warrens of books that has become almost synonymous with public libraries. Spanning 145,00 sq ft over six amenity-packed floors, Deichman Bjørvika is a climate-focused, state-of-the-art declaration for a library of the future.

Aside from books, of course, the library hopes to reach its visitors through technology: budding musicians, for example, have access to instruments (along with instructional films on how to play them), while the children's floor has several interactive video installations. A cinema, auditorium, and storage facilities are located in the basement. The library also contains a canteen, restaurant, archive spaces, and workspaces.
Combining translucent walls with glass windows, the building's façade creates a light and airy dynamic inside. The exposed concrete ceilings – with its striking honeycomb pattern – draws the eye up through the central atrium. The top floor of the of the library cantilevers out, 'announcing its presence' to visitors arriving from the downtown and Oslo's central station (in return it offers spectacular views of the city and surrounding fjords). The interiors were designed in collaboration with AS Scenario Interiørarkitekter.

But it's not just its heritage as Norway's oldest cultural institution that the Deichman Library (which has 22 branches) is celebrating. A specially designed room in the new building is dedicated to a forward-looking project by Scottish artist Katie Paterson that will take 100 years to be realised. Each year between now and then, one writer will contribute a text to be held in a trust, unread and unpublished, until 2114, when the manuscripts will go on display in the library.

In the meantime, Deichman Bjørvika aims to welcome two million visitors each year to explore its vast multimedia collection, although it is currently limiting entry to 1,000 people at any given time (the library's usual capacity is 3,000). As the world readies to turn the page to a new chapter, so too does Oslo.
INFORMATION
lundhagem.no (opens in new tab); atelieroslo.no (opens in new tab)