Peter Salter's quartet of town houses at Walmer Yard is a work of poetry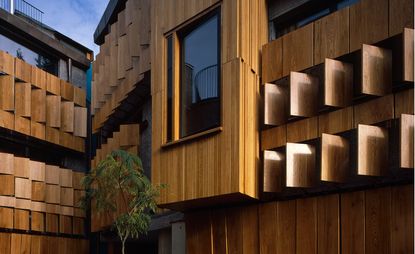 (Image credit: Hélène Binet)
Arranged around a central courtyard, Peter Salter's four eclectic town houses are not the largest London development of the year – but they are probably the most eagerly awaited. This is partly because of the caché of the architect.

Salter was one of the most influential figures in architectural teaching in the 1980s, working at the Architectural Association (the developer of the Notting Hill-located project, Crispin Kelly, was one of his students). He is very much the architect's architect; Salter worked for the fabled Smithsons and his draughtsmanship is legendary – some of the drawings for Walmer Yard have already been bought by a collector – as is his advocacy for the poetic qualities of construction.
The long-awaited development is testimony to the breadth of his style. The courtyard is covered with oak block floors and lined with benches. The former, he says, evokes the lodge of Trinity College in Dublin and the latter the timber-lined interior of the Scuola Grande di San Rocco in Venice. Inside, the four houses are intense collages of materials and techniques with plenty of oriental touches, belying the time that Salter spent in Japan.

There are other sources too. Salter found use for the rolls of black carbon steel he'd seen on freight trains in Cardiff station for the en-suite toilet pods. It goes without saying that they are like nothing else. With four underground parking spaces accessible from a turntable, the project is Gaudí's Casa Milà for 21st century London.
And yet this is not simply an over-indulgent developer humouring an eccentric architect. The central courtyard is a device to allow greater sunlight into the three properties set back from the road, one of which is only three stories high and lower than the rest due to planning restrictions. The oak-panelled louvres mitigate against the proximity of the neighbours. And while the plans may appear arbitrary, each of the three taller, four-storey houses have been arranged so the external balconies don't overlook those of other houses. While the staircases in particular are tight they are perfectly mapped on to the scale of the body. In fact, after cost, the main demand on prospective owners will be whether they want to live in a particularly lyrical work of poetry or not.
INFORMATION
For more information, visit the Walmer Yard website (opens in new tab)