A pedestrian bridge by Next Architects is also a bat haven for South Holland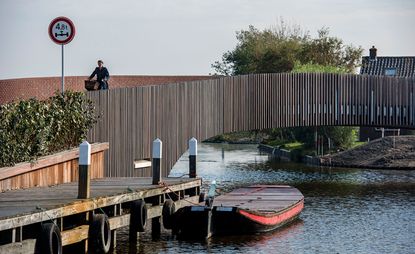 (Image credit: Raymond Rutting)
Poelzone, a ribbon of land in the Dutch province of South Holland, has been undergoing a sensitive transformation by Lola landscape architects (opens in new tab) to form an ecological and recreational connection through the country's greenhouse-filled region of Westland.

Marking its entrance, Amsterdam-based Next Architects (opens in new tab) have just unveiled Vlotwatering Bridge or 'batbridge,' by its popular moniker, a serpentine pedestrian structure spanning the waterway and providing year-round accommodation for several species of bats. 'A textbook example of how a functional object can at the same time serve nature,' says bat-expert Marcel Schillemans from the Mammal Society.

The faint-hearted can rest assured that the arched concrete structure may discreetly integrate three types of habitat for the nocturnal winged creatures, but all are away from pedestrian footfall. The northern abutment is designed as a thick-walled concrete tank for winter residency, with thermal mass regulating the temperature. Accessed by a horizontal opening, the modest entrance is emphasised by a break in the timber with a contrasting concrete sill.

The deep recessed grooves of the bridge's soffit form a summer shelter, with a rough textured finish for grip. Additional summer roosting is accommodated in the cleverly adapted cavity of the curved brickwork balustrade, the entrances marked by a series of tinted bricks with open joints either side.

Not to be forgotten, pedestrians are rewarded with a rhythmically spaced timber balustrade, providing playful views of the river and the Poelzone.
INFORMATION
Photography: Raymond Rutting