In memoriam: Paolo Portoghesi (1931 - 2023)
Postmodernist Italian architect Paolo Portoghesi has died; writer David Plaisant celebrates his life and legacy, recalling his visit to Calcata for a feature in the Wallpaper* April 2021 issue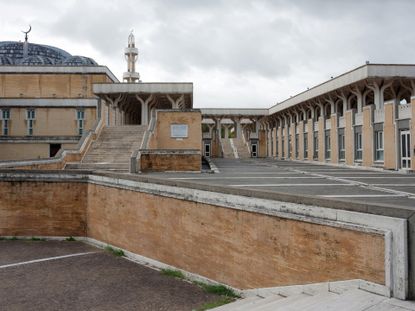 (Image credit: Leonardo Magrelli)
Wallpaper* Newsletter
Receive our daily digest of inspiration, escapism and design stories from around the world direct to your inbox
Thank you for signing up to Wallpaper. You will receive a verification email shortly.
There was a problem. Please refresh the page and try again.
There was an air of uncertainty about our meeting with Paolo Portoghesi, as we approached the ancient hilltop town of Calcata, just beyond Rome's urban sprawl, on a cold morning in February 2020. Not only had the appointment been made with very little instructions, but there was news of cases of a new virus proliferating in Italy. Gloomy clouds overhead only brought further worry. Once at the prolific postmodernist's sprawling house, and only after getting a very courteous welcome from Portoghesi (who was 89 at the time) could photographer Leonardo Magrelli and I begin to relax.
Paolo Portoghesi: his work and inspiration
Over the next four hours we were shown around personally by the spritely architect himself. It was a tour that not only took in the extraordinary house and grounds he shared with his wife Giovanna, but was a meandering journey through the mind of a man whose more than eight decades of output went far and beyond the built realms of architecture. When he was just 16, he produced his first book, a hand-bound, hand-illustrated biography of baroque master Francesco Borromini, a figure that was to perennially inspire Portoghesi over the decades. From a 1967 Rai TV documentary to his seminal and unrivaled 'Borromini. Life and Works' (last edition was 2019), Portoghesi was and still is the Italian authority on baroque architecture.
He was fixated on the baroque's use of the curve and in particular its juxtaposition with the straight line, a phenomenon Portoghesi found to be poetic and full of irony. Indeed much of his work intentionally mirrored the tricks and twists of Borromini's San Carlo (1660) or Sant'Ivo alla Sapienza (1644) in Rome. Three of Portoghesi's Roman projects - the Casa Baldi (1959), Casa Papanice (1966) and half a century later, his reconfiguration of the Piazza San Silvestro in 2012 - show his tenacity and ingenuity in being able bring the baroque back from the dead in a very modern way.
His house was a place filled with thousands of objects, beautifully arranged, and above all books in every conceivable nook and cranny. 'People take me for a historian who designs buildings,' he told us before explaining that for him, the historian in him always played second fiddle to the architect. It was his embedded historicism however, that led to what might be his most celebrated building, the Grand Mosque of Rome which he designed together with Vittorio Gigiotti and Sami Mousawi (completed 1994). Portoghesi's love for the Art Nouveau and Victor Horta who he wrote about extensively, can be seen in much of the Mosque's sinuously decorative style.
Portoghesi was also pivotal in the creation of the first Venice Architecture Biennale in 1980. He curated the 'Strada Novissima' exhibition there, for which he wrangled submissions from some of the world's most prominent architects, among them Frank Gehry, Rem Koolhaas, Arata Isozaki, Robert Venturi and Denise Scott Brown, and Ricardo Bofill. The exhibition is considered by many as a rallying point for the postmodernist movement, and certainly one of its most intellectually rigorous manifestations.
Poalo Portoghesi, the postmodernist architect and art historian, died peacefully at his home in Calcata on the 30th May 2023. He was 92 years old.
Receive our daily digest of inspiration, escapism and design stories from around the world direct to your inbox