Semi-detached: an unusual Oxford house conversion by Delvendahl Martin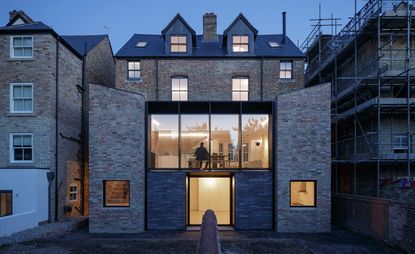 (Image credit: Tim Crocker)
London-based Delvendahl Martin Architects (opens in new tab) have tastefully converted two Victorian semi-detached houses to form a single, bright and spacious 350sqm family home in central Oxford, completed this summer. With minimal intervention to the front façade, the drama is reserved for the rear, where a smart two-story extension creates a strong visual link between the two, 'making the building look like one house as it was originally intended,' say the architects.
Internally, a central feature staircase, clad exclusively in stained timber, is positioned perpendicular to the party wall, creating a lynchpin for the merged layout. 'The existing symmetrical arrangement gets thus rotated to achieve a continuous flow of spaces throughout each floor,' explain the architects. The ground floor encompasses the open plan living/kitchen/dining spaces, with three bedrooms and a bathroom on the first floor, and a master bedroom, bathroom and office/ studio space on the second.
Take an interactive tour of Oxford House
Expressed as solid brick bookends sloping to frame a recessed central bay, the extension is a clever ploy allowing plenty of daylight into the open plan living area. Constructed from bricks reclaimed from the demolition process, the 'outriggers' accommodate ancillary spaces and a second stair that negotiates the level difference to the lower ground floor level. Accessed from the open-plan living area, the brick stair core appears pleasingly open to the elements, with a frameless glass lid encouraging further daylight in. A self-contained lower ground floor offers an additional open plan living/kitchen/dining space, two bedrooms and a bathroom.
Reinforcing the notion of unity, the central bay spans internally the formerly-separate structures and features a contrasting palette of materials, including a darker brick that forms a loggia at garden level, and floor to ceiling glazing at upper ground level. Anodized aluminium fins provide a degree of shade and mitigate overlooking to neighbouring properties. The glazed screen panels are openable, giving the impression of an elevated terrace with views over the two rear gardens, where rather playfully the existing dividing garden wall has been retained.
It is a game of two halves, where bold gestures have transformed these two houses into an impressive family home.
INFORMATION
Photography: Tim Crocker