From Anthropocene to Symbiocene: Barbican's 'Our Time On Earth' exhibition
'Our Time On Earth' show at the Barbican in London imagines a future when humans and nature are in sync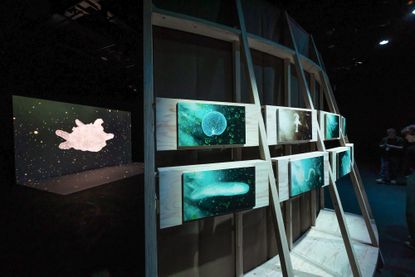 (Image credit: Photography: Universal Design Studio)
Wallpaper* Newsletter
Receive our daily digest of inspiration, escapism and design stories from around the world direct to your inbox
Thank you for signing up to Wallpaper. You will receive a verification email shortly.
There was a problem. Please refresh the page and try again.
A new show at London's Barbican Centre takes us inside a tree and under the earth to encourage us to marvel at the biosphere and rethink our place within it. 'Our Time On Earth' urges us to demote ourselves from the top of the species hierarchy and consider how what we design could be attuned to the needs of all beings, not just our own.
The journey begins with Sanctuary of the Unseen Forest, a hypnotic animation by Marshmallow Laser Feast and Andres Roberts that shows nutrients pulsing through a Ceiba pentandra (kapok) tree and rivers of carbon pouring into the earth. Further on, environmentalist George Monbiot and digital agency Holition surround us with a multi-screen installation evoking the plants, microbes and animals that live in soil, which we consistently abuse with chemical-heavy farming. Both soil and trees play a vital role in storing the carbon we exhale, and these works emphasise how all living systems are connected.
Rather than fill us with fear about an environmental apocalypse, guest curators Kate Franklin and Caroline Till, of creative agency FranklinTill, believe wonder is a more mobilising emotion. 'We want to evoke a sense of awe to encourage people to care,' says Till. 'By making an issue tangible, bringing it to life and immersing people in it, we can nudge [them towards] new behaviours.' These installations certainly enthral.
Part of the problem with the capitalist system, the show suggests, is that viewing land as 'property' asserts our dominance over nature, making it ours to exploit. But 'the land has a voice', declares a textile banner in an installation by Indigenous-led collectives Choose Earth and Selvagem. Elsewhere, design studio Superflux's artwork Refuge for Resurgence – first shown at the 2021 Venice Biennale – imagines a rebalance, giving all living things nourishment in a multi-species banquet.
Our Time On Earth' points out that many Indigenous communities around the world have developed ingenious design solutions for living in symbiosis with nature. In a work called The Symbiocene, designer Julia Watson, architect Smith Mordak, and engineering firm Buro Happold have teamed up with communities in India, Bali and Iraq to explore what cities might look like in 2040 if we incorporated Indigenous knowledge and technologies. They have borrowed the name Symbiocene from Australian philosopher Glenn Albrecht, who argues we must exit the Anthropocene and enter a new era characterised by harmonious interactions between humans and other living beings.
The result is a series of architectural models, accompanied by videos in which the collaborators discuss the challenges. One draws on the living root bridges by the Khasis community in the Indian state of Meghalaya, made from the aerial roots of rubber fig trees, which the community trains to grow across rivers over many years. Watson, Mordak and Buro Happold have reimagined them as nature-based infrastructure: an interconnecting web of trees through a city centre that would improve air quality and urban heat-island effect.
Taking inspiration from Indigenous communities, whose lands have been consistently exploited by the West and disproportionately affected by climate change, comes with ethical complexities. In this case, the collaborators on The Symbiocene have taken a verbal Smart Oath of Understanding to protect the communities' intellectual property. A speaker overhead plays a recording of it, but noise interference (a pervasive issue in this audio-heavy show) means you'll have to strain your ears to hear it.
One film feels out of step in an exhibition that asks us to reconnect with nature. Liam Young's fictional Planet City proposes we should all live in one giant, sustainable metropolis and let the rest of the world rewild. With its dystopian purple skies, it's not an inviting one, however, so perhaps he intends it as a parable about our need to hide ourselves away in shame.
Elsewhere, 'Our Time On Earth' puts forward practical ways for us to tread more softly on the planet. It spotlights a range of biomaterial innovations in the fashion world and how locally abundant materials can be combined with cutting-edge global technologies to create low-carbon building. Nairobi-based firm BuildX Studio proposes replacing new steel and concrete edifices with cross-laminated timber frames, combined with compressed stabilised earth bricks for walls and fungi for interior panels.
There's irony to the show's setting in the concrete surrounds of the Barbican. But at its opening, artistic director Will Gompertz declared upcoming renovations by Asif Khan and Allies & Morrison will explore ways to make the building more nature-positive. And the exhibition design itself – masterminded by Universal Design Studio – uses seasonal materials, such as hemp, grown using regenerative farming methods.
'Our Time On Earth' is a rousing exhibition that asserts there's no silver bullet to reaching the Symbiocene. It will take many ideas – involving all species – to get there. This new age can't come quickly enough.
INFORMATION
barbican.org.uk
Receive our daily digest of inspiration, escapism and design stories from around the world direct to your inbox
Malaika Byng is an editor, writer and consultant covering everything from architecture, design and ecology to art and craft. She was online editor for Wallpaper* magazine for three years and more recently editor of Crafts magazine, until she decided to go freelance in 2022. Based in London, she now writes for the Financial Times, Metropolis, Kinfolk and The Plant, among others.