Beautiful brutalism: Barbican's Blake Tower debuts its first show apartment
Conran & Partners pair 'warm and soft' interiors with brutalist architecture in the Blake Tower's first show apartment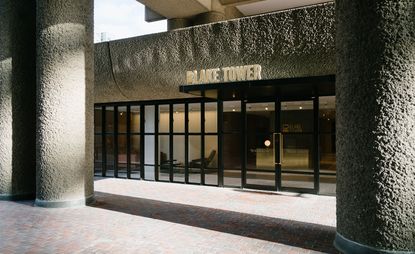 (Image credit: Richard John Seymour)
In August it was announced that London's Blake Tower, the fourth high-rise that completes the brutalist Barbican Estate, was to be converted into 74 luxury residences comprising two and three bedroom apartments, studios and two penthouses. Purpose designed as a youth hostel in 1968 by Chamberlin, Powell & Bon, the Grade II listed, 17-storey block has been empty since 2012 and is now under the ownership of Redrow London, who are working with design studio Conran + Partners on the overhaul.

December saw the unveiling of the first show apartment, which demonstrates how the designers will fuse the building's original brutalist features, such as exposed concrete and pick-and-brush-hammered interior walls, with contemporary brass fittings, light oak floors and a warm colour palette.

Features such as a brass screen in the show apartment's reception and the bespoke terrazzo bathroom vanity units echo the curved shape of the Barbican's distinctive balustrades, while the curved ends of the door handles reference the estate's renowned central water fountain, Frobisher Crescent.

'We have been inspired by the historical, architectural and cultural characteristics of the Barbican to create a fresh, exciting and crafted design,' says Simon Kincaid, project director at Conran + Partners, who describes the development as a collection of apartments which have 'a modern heritage'.

'We celebrate and reveal the buildings iconic hammered concrete finish in a controlled manner, giving the apartments authenticity and character,' he continues. 'Kitchen, bathroom and joinery designs include carefully considered materiality and detailing in response to the honest innovative and modernist design principles seen in the Barbican Estate.'

While the show apartment demonstrates a two-bedroom layout, buyers can choose from floorplans that range in size from 450 sq ft to over 2,000 sq ft and that take in impressive views of London's skyline with the London Eye and the Shard to the south. With architects Harper Downie taking on the refurbishment of the building's exterior, Blake Tower is scheduled for completion this year.
Designed by Conran + Partners, the show apartment demonstrates how the building's original brutalist features, such as exposed concrete and pick-and-brush-hammered interior walls, will be fused with contemporary brass fittings, light oak floors and a warm colour palette
'Kitchen, bathroom and joinery designs include carefully considered materiality and detailing in response to the honest innovative and modernist design principles seen in the Barbican Estate,' says Simon Kincaid, project director at Conran + Partners
INFORMATION
Prices start at £720,000. For more information visit Blake Tower's website (opens in new tab)
Photography: Richard John Seymour