'Building The Brutal': celebrating the construction of London's Barbican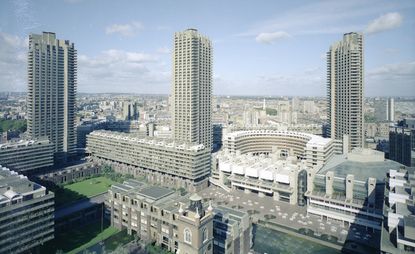 (Image credit: Photographer Peter Bloomfield)
The Barbican, Britain's most famous brutalist building and one of Europe's largest functioning multi-arts and conference venues, was created to reflect a new type of inner city utopia and at the same time reconstruct a large part of central London, which was destroyed during the war.

The world-class complex, designed in the late 1950s by young architects Chamberlin, Powell and Bon, spent 10 years in construction until its grand opening in 1982. The centre has since been given a Grade II listing and cemented its reputation as a cultural and architectural British icon.

In its early years, the Barbican's first director, Henry Wrong commissioned photographer Peter Bloomfield to record the stages of construction of the complex. Bloomfield's comprehensive photo collection - just recently gifted to the Barbican arts centre - consists of over 1,400 negatives, which intricately document the late construction stages of the Barbican, and its completion.

'During my first visits to the site, I witnessed the building emerging from raw concrete to a beautifully textured finish with the help of a number of jackhammers, clouds of dust, and a lot of sweat', says Bloomfield, reflecting on his experience on site.

This rediscovered archive forms a new 96-page tome, published by the Barbican and titled Building the Brutal. The book includes more than 70 colour, as well as black and white images that cover different aspects of the build, most of which have never been released to the public before.

The evocative photographs document everything; from the first events held at the complex, to workers hand-finishing the famous textured walls, and the impressive moment, when trees were craned into the on-site conservatory.

All imagery can be explored on a newly launched website or within the pages of the printed book, which comes with a foreword by Jane Alison, Barbican Head of Visual Arts and includes a separate feature on the photographer. The publication is now available for pre-order and will be in store from mid-March.
INFORMATION
Building The Brutal is published by the Barbican. For more information on the book visit the Barbican website