OMA and BIG join forces for the launch of 79&Park and Norra Tornen in Stockholm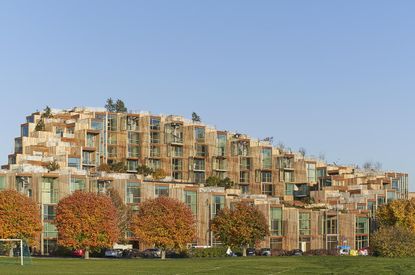 (Image credit: Åke E:son Lindman, courtesy Oscar Properties)
OMA (opens in new tab) and BIG (opens in new tab)'s new residential towers in Stockholm are pillars of modernity, efficiency, sustainability, luxury and, incongruously, affordability (apartments in both buildings start at around four million Swedish Krona, or about £345,000).

While Reinier de Graaf, partner at OMA, and Bjarke Ingels, founder of BIG, pal around like dear friends – which they are, having overlapped at OMA as partner and protégé respectively of Rem Koolhaas – their respective journeys towards these projects were starkly different.

Oscar Engelbert, the passionate and prolific founder of Oscar Properties, endowed both architects with specific challenges to be solved: Ingels' tower would have to embrace its surroundings; de Graaf's would have to repel them. Both solutions remained remarkably true to their original brief.

De Graaf's Norra Tornen, the first of twin showpieces awkwardly sited on a double roundabout, confronts Stockholm's antipathy toward the cheap, ill-conceived brutalist towers of the last century by playing up the Corbusienne elements of the style and eliminating the bleakness. A bespoke terrazzo-effect aggregate spiked with Danish sea pebbles ('worth fretting over,' says de Graaf) introduces soulful, 'un-Trumpian' warmth to the corrugated façade.

Yet de Graaf unlocked the barrier to liveability in one bold move. The key was in the deep bays of sealed, triple-glazed panoramic windows, 'like iPhone screens without the keys'. Pushing them out created sheltered recessed terraces where vented openings could bring in air but not noise. 'That perpendicular façade allowed the whole building to coexist with its surroundings,' says de Graaf. Once that was cracked, OMA could prefabricate each level north of the 16th floor, installing one every six days.

Where Norra Tornen rises above its location, 79th&Park opens up wide. Here Ingels has designed a 21st-century country cabin in composite, following the familiar cascading silhouette he has popularised since leaving OMA in 2000 and forming BIG, as a nod to the surrounding hills.

Experiencing it triggers the senses in a way Norra could not – the scent of the Canadian cedar that drapes the entire façade permeates the area.
Each unit rotates 45 degrees from the last, so the complex from one vantage point seems to be entirely wood and from another entirely glass, reflecting the sky. A central courtyard, cloistered from the open landscape, emits a dewy stillness. Greenery sprouts from cedar beds at staggered levels – even up on the rooftop, where they flank terraced gardens.

The standard ceiling height in Stockholm rises 2.4m. Inside these 164 units, they vary upward from 2.7m and the doorways rise to the top: 'a small step for mankind but a huge leap for the people living here,' says Ingels. The variety, he says, creates character, as does the appearance, here and there, of the raw steel tectonics holding them up. 'Like a converted loft, the pragmatism of the steel structure provides some quirkiness', he adds.

Both buildings are, in de Graaf's words, 'aggressive, confident manifestations of modernity' that the architects hope defy convention enough to deter absentee investors. Oscar's modus operandi is championing contemporary solutions for city living, after all. These buildings bring it to life.
INFORMATION
For more information visit the BIG website (opens in new tab), the OMA website (opens in new tab) or the Oscar Properties website (opens in new tab)