The 2019 Orleans Architectural Biennale is a thoughtful journey of exploration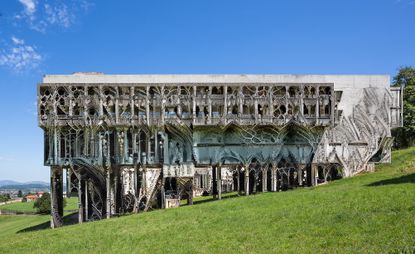 (Image credit: Ruy Klein)
Solitude may seem an odd theme for an architecture biennial in the age of the network society. But at the freshly-opened Biennale d'Architecture d'Orléans, titled 'Years of Solitude,' it has instead become an ode to togetherness. 'In order to share life, you have to understand how to be alone,' offers co-curator Luca Galofaro, as he greets me at the entrance of the Jakob + MacFarlane-designed, pipe-shaped aluminium building of the FRAC Centre-Val de Loire, organisers of the exhibition. 'It's an atlas of ideas, a landscape of solitude,' he continues, nodding to the legacy of Latin American socialist writers Gabriel Garcia Márquez and Octavio Paz.

Now in its second edition, the biennial has entrusted six international curators to propose their own 'tales of solitude' across different venues, drawing from the FRAC's expansive architecture collection while also commissioning new works (which are subsequently acquired). It is the third largest in the world, with a particularly strong focus on radical architecture from the 1960s and 1970s, when 'architecture was discussed as a discipline rather than buildings,' says FRAC director and biennial co-curator Abdelkader Damani. Through the different exhibitions, particular historical moments and regions – from Latin America to the Middle East – enter in an unlikely dialogue, like an 'archipelago' (a possible reference to Martiniquean philosopher Edouard Glissant's 'archipelagic thinking').

On the ground floor of the FRAC's rehabilitated military base, the Biennale opens with two monumental pieces from 1964 by French sculptor André Bloc – a key member of the group Espace, which sought to bring the ideals of constructivism and neo-plasticism to urbanism. Titled 'Totems', the sculptures are laid horizontally against the sonic backdrop of a composition by John Cage. Surrounded by additional works by late Israeli artist Absalon and Saudi artist Ahmed Mater, the plaster columns will begin a process of restoration, visible to the public throughout the duration of the biennial, with views to install them vertically thereafter.
The following room is introduced by a projection of 1962 science-fi short film 'La Jetée', constructed almost entirely from black and white still photos. It leads to a display featuring guest pieces from the MAXXI collection in Rome, reflecting Italy's postwar utopian ideals – including striking surrealist drawings by French-Italian architect Luigi Pellegrin – in conversation with works from the series 'Waiting Land' by art and architecture duo Stefano de Martino and Karen Lohrmann. In the foyer, an indoors pavilion by Spanish practice Takk explores the kitsch aesthetics of fakeness, while in the adjacent room, Mexican artist Santiago Borja has worked collaboratively with the native shamanic community of TKTK to produce a handwoven, 3D star-shaped geometrical rug, which looks up to the FRAC's skylight.
Meanwhile on the upper floors, two original monographs are on display. The first, curated by Cornelia Escher, is dedicated to the obscure, experimental German architect, artist and teacher Günter Günschel, and features poignant expressionist drawings where geometric volumes converse with anthropomorphic figures. The second, curated by Pierre Frey, focuses on fugitive architect-turned-novelist Fernand Pouillon and his social housing projects in 1960s Algeria, after escaping from French prison. Both provide nuanced and insightful glimpses into the solitary minds of these often-overlooked architectural figures of postwar Europe.
Of course, it wouldn't be an architecture biennial worthy of the name if it didn't expand to the city's public spaces. Twenty two original flags by artists and architects from the Arab world – including Zaha Hadid, Susan Hefuna and Driss Ouadahi – now border the historical Rue Jeann d'Arc, which leads to the city's 12th-century Gothic Cathedral. A simple-yet-effective curatorial strategy, which subverts the otherwise quaint medieval aesthetics of Orléans.
Meanwhile at the Collégiale Saint-Pierre-le-Puellier, the city's oldest church, the biennale's undisputed highlight is the exhibition 'Dreams Seen Up Close', curated by Davide Sacconi and paying homage to the cultural legacy of Brazilian group Arquitetura Nova. Active between 1961 and 1971, on the cusp of Brazil's military dictatorship, the collaboration between Sérgio Ferro, Flávio Imperio and Rodrigo Lefèvre produced an exceptional body of work aimed at reinventing the role of the architect. Here, their experiments in painting, theatre, pedagogy and building techniques are in conversation with the documentation of more recent projects by Brazilian community planning group Usina_Ctah, drawing a timely dialogue between architectural imperatives in times of political upheavals then and now - an 'architecture as resistance,' says Galofaro.
This second edition of the Biennale d'Architecture d'Orléans is all you want from a biennial: thoughtful, multidisciplinary, locally-rooted yet outwards looking and favouring the discursive over the spectacle. It is however ingrained in a kind of utopian nostalgia – inevitable product of the FRAC's collection – which, at times, distracts from the potential of contemporary practices to address the urgency of our times. But then again, who said that exhibition making should be didactic. 'We are a laboratory,' says Galofaro of the biennial's speculative nature. 'We didn't want to give answers.'
INFORMATION
frac-centre.fr (opens in new tab)