What to see at Open House London 2018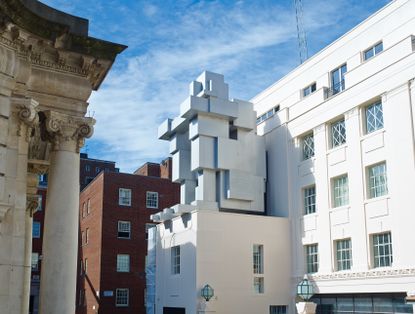 (Image credit: Antony Gormley)
ROOM by Antony Gormley
Antony Gormley

This cubed figure crouched on the listed façade of The Beaumont Hotel is a giant sculpture and a habitable space. Built in 1926 by architects Wimperis & Simpson, the Grade II listed gem, was redesigned by London practice ReardonSmith Architects. This public artwork by British artist Antony Gormley is one of London's most sought after suites. Inside, expect to be compressed and released by the sculpture's design, which is the architecture itself. A timber lined bedroom is tucked into the womb of the sculpture.
No more peering into lit windows at night, Open House London's September edition has arrived allowing the public to explore beyond the facades of some of the city's most-loved and hidden architecture. This season's Open House brings newcomers, forgotten gems and recently completed architecture together in a city-wide showcase.

From the Foster-designed Bloomberg Building, to Wallpaper* favourites Michaelis Boyd's Round House in West London and Fumihiko Maki's new Aga Khan Centre in London, many more buildings join the fray, throwing open their doors to the nosey public.
Blackhorse Workshop
Assemble

Located in Walthamstow, this public wood and metal workshop equipped with bench space, tools and machinery for all is designed for makers to experiment and create. There is an outdoor working area, education space, community café and 35 studios for creative businesses. Assemble led the project, developing the brief, researching and engaging the community as well as the design and construction between 2012 and 2014. Including Blackhorse Workshop, Assemble instigated a network of open-access workshops with the aim to make the workshop 'just as familiar part of our city as are libraries or leisure centres'.
The Gordon House
MJ Long

On the sad occasion of MJ Long's recent passing (1939-2018), this artist's studio for Gordon House, Islington, completed in 1990, is worth a visit. The Yale educated American architect became a resident of the UK in 1964 where she established her architectural career. The studio features a double-height painting studio overlooked by upper balcony that was designated for the creation and display of graphic work. Now, the studio is a work-live space owned by artist Andrew James. Long worked with husband Rolfe Kentish as part of the practice Long & Kentish, designing together many much-loved London cultural gems including the The British Library Centre for Conservation, the Jewish Museum in Camden Town, and The Ivy restaurant that includes examples by Paolozzi, Blake, Hodgkin, Jones, Phillips and Caulfield.
Round House
Michaelis Boyd Associates

The narrow, off-white, brick-clad main façade of architect Alex Michaelis' home in west London is modest, yet there's an abstractly turret-like volume rising up behind it, dotted with large openings of different shapes and sizes. Inside, beautifully sculpted staircases with smooth corners, corridors and rooms are lined with Dinesen Douglas fir flooring, while details such as windowsills feature the same wood. The walls are deliberately left with an unpainted plaster finish which, together with the timber's pale colouring, creates an overall soft, light, almost Scandinavian interior.

Wallpaper* took a tour of the Round House with Alex Michaelis here (opens in new tab)
St Augustine's Church
Roz Barr Architects

Commissioned by the Order of St Augustine, Roz Barr Architects stripped back, restored and refurbished the St Augustine's Church in Hammersmith. The space was transformed into a place with a calm, ethereal quality. Part of the work involved revealing the original architecture to create a simple, peaceful and calming design to reflect the sacred purpose of the space. A new altar was designed by ceramist Julian Stair above which a cast iron light designed by Roz Barr and John Morgan Studio hangs.
Sun Rain Rooms
Tonkin Liu

This elegant and dynamic outdoor space at Tonkin Liu's studio, which is also the partners' home, is part of a two storey extension to a Grade-II listed Georgian townhouse. Rainwater glides from the roof through a spout and into a tank, which floods the patio at the touch of a button, to create a reflecting pool. The outdoor space is a sheltered oasis that celebrates the beauty of a rainy day.
Haggerston School
Erno Goldfinger

Built in the mid-1960s and refurbished in 2012 by Avanti Architects, this Grade II listed secondary school in east London was Erno Goldfingers only school building in the UK. The plan of the building reflects the proportions of the golden section and interior architecture details inside include decortative concrete ceilings and timber panelling. Colourful architectural additions by Avanti and an additional building designed by Wilkinson Eyre on the site, show how the site has been layered and developed over the years, with respect to the original Goldfinger design.
Woodland Classrooms, Belvue School
Studio Weave

This secondary school for children aged 11-19 with learning difficulties and special education needs, is described by the architects as a 'unique and magical' facility. Sitting separately from the main school building, the facility is surrounded by woodland. The cedar facade with concave roof is a creative and abstract design in the landscape. Inside, a wood burning stove, huge windows, skylights and sliding doors make this educational environment open, bright and connected to nature.
Kensal House Estate Community Rooms
Maxwell Fry

The Grade II* listed community rooms at the Kensal House Estate to the north of Ladbroke Grove is home to SPID (Social Political Innovative Direct), a youth charity specialising in community art on council estates. The building was designed in 1937 by architect Maxwell Fry and social reformer Elizabeth Denby who had a vision for an urban village that would replace slum living for working class people in Kensington.
Bloomberg European Headquarters
Foster + Partners

Bloomberg's new European headquarters in London is the result of founder Michael Bloomberg working closely with Lord Norman Foster to create a progressive workplace of the future, a pioneer of sustainable design exceeding all other office blocks in its environmental credentials, and a stimulating place for its 4,000 employees to work. It's heavy, smoothly gridded facade of Derbyshire sandstone and bronze is certainly physically dominating, yet instead of attention seeking, it is mostly sturdy and reassuring.

Read more about the Bloomberg Building here (opens in new tab)
The National Archives
McMaster/Clavering/Miller/O'Reilly

This hidden Brutalist masterpiece in south west London holds the National Archives of the UK government, providing resources for people working across the public sector – artefacts include original copies of the Domesday Book and the Magna Carta. The building complex completed in 1976 and overlooks the River Thames. It was designed by the UK government's Property Services Agency and references the style Denys Lasdun's National Theatre.
Aga Khan Centre
Maki and Associates

The London headquarters for the Aga Khan Foundation, the Aga Khan Centre in Kings Cross is a new addition to the Open House offering. The Pritzker prize-winning architecture practice, Maki and Associates, cut out a series of Islamic courtyards and gardens from a ten-storey block providing offices, a library and exhibition space. With its light-coloured limestone facade, modern engineering and unique sheltered spaces for reflection, the architecture promotes openness and contemplation through its form.

Read more about the Aga Khan Centre here (opens in new tab)
Rudolf Steiner House
Montague Wheeler

This unique expressionist building is the London home for Austrian architect and thinker Rudolf Steiner's teachings and philsophy of Anthroposophy that he developed in Germany at the turn of the 20th century. The house was built between 1926 and 1937 and designed by Montague Wheeler, a partner at the practice of Hoare and Wheeler. The organic design was inspired by the first Goetheanum building at Dornach in Switzerland. Now Grade II listed, the building was renovated in 2008 and has a new cafe.

Read more about the Goetheanum, the building in Switzerland that inspired Rudolf Steiner House in London
Valetta House
Office S&M

This 'child-friendly' house in Ealing, is a remodelled Victorian terraced house with a full refurbishment of the interior and two rear extensions. Each child in the family was given their own dedicated space and arched window. Interior detailing is playful – curves were added to the walls and a playful snakes-and-ladders bannister designed, while a rich material pallette includes glazed herringbone tiles, fabric banquettes, plywood fingerpulls, and marble handrail ends.
UCL and The Bartlett at Here East
Hawkins\Brown

University College London's architecture school, The Bartlett, has moved into the Here East block in Stratford, the former home of the Olympic Press Centre, with a new architecture, engineering, computer science and real estate campus. Designed by architecture practice Hawkins\Brown, the new campus is designated for collaborative and cross-disciplinary work. This vast space has enabled UCL's new Real Estate Institution and Robotics Lab to be born, and the Faculty for the Built Environment and the Engineering Sciences Faculty to expand.

Read more about The Bartlett's facilities at Here East designed by Hawkins\Brown (opens in new tab)
INFORMATION
Open House London weekend runs 22-24 September. For more information, see the Open House London website (opens in new tab)
Harriet Thorpe is a writer, journalist and editor covering architecture, design and culture, with particular interest in sustainability, 20th-century architecture and community. After studying History of Art at the School of Oriental and African Studies (SOAS) and Journalism at City University in London, she developed her interest in architecture working at Wallpaper* magazine and today contributes to Wallpaper*, The World of Interiors and Icon magazine, amongst other titles. She is author of The Sustainable City (2022, Hoxton Mini Press), a book about sustainable architecture in London, and the Modern Cambridge Map (2023, Blue Crow Media), a map of 20th-century architecture in Cambridge, the city where she grew up.