Marine life: OneOcean by SCOB reinvents Barcelona's Port Vell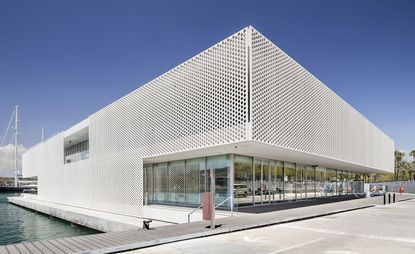 (Image credit: Adria Goula)
Of all the grand designs carried out in Barcelona for the 1992 Olympic Games, the overhaul of the city's waterfront is one of the most popular, both with locals and the great number of tourists who have flocked to see the reinvented city since then. Over two decades later, the Port Vell (or 'Old Port'), the marina that bridges the old town and the sea has been reborn again.

Now renamed OneOcean, the old port has become, claims the management, the most secure luxury marina in the world. It's a work of fledgling Barcelona-based studio SCOB, who won the commission in an invitation-only competition. The plan encompasses not only architecture, but also the design of outdoor furniture, signage and the 'tidying up' of the old quays and docks. It has bestowed the port a new uniform – an elegant appearance using simple forms, low cost materials and a minimal colour palette.

The project takes shape with two low-level glass pavilions on the water's edge: one the administrative offices and the other a members-only restaurant and cocktail bar. Each of these is partially wrapped in a bone-white perforated screen made of a lightweight, incredibly fine, yet super strong concrete. This element shelters the structures from the sun and harsh reflections from the water, and bathes the interiors in a rippling, dappled light.

'At design stage we were mooching around the old port,' explains Sergi Carulla, a partner at SCOB. 'And we noticed that the few fishermen left working there shaded themselves by making canopies with poles and fishing nets. We took inspiration from that, and the fact that creating sunscreens from a variety of materials is ingrained in Mediterranean culture.'

The architects used the same material for the marina's new furniture; swoopy stools on which visitors can sit and admire the hibernating super yachts OneOcean has been designed to house.
INFORMATION
For more information, visit SCOB's website (opens in new tab)