Cast masters: OMA brings concrete, culture and car parking to Miami's Faena District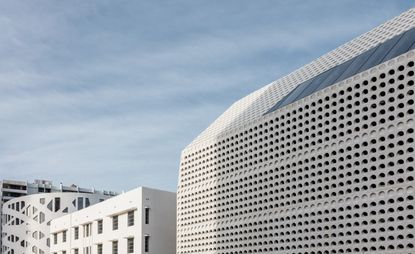 (Image credit: Kris Tamburello)
Not long ago, Mid-Beach was a bland, eight-block stretch of Miami Beach, so faded as an urbanscape that few noticed the gorgeous, unpopulated stretch of sand beckoning beyond the dull buildings along its main drag, Collins Avenue. Then, late last year, with the debuts of the flamboyantly glamorous Faena Hotel (W*202), in a restored 1940s resort tower, and Faena House, a billowy, 18-storey condo high-rise designed by Foster + Partners, Mid-Beach was suddenly on every globetrotter's radar.

When the Faena company's new three-building complex with cultural, retail and parking components, designed by OMA, opens on 27 November across the street, the $1.2bn dollar reinvention of the neighbourhood will be considered complete (one more element, Faena Mar, a residential tower by Brandon Haw, will be added in 2017).

Alan Faena, the Argentinean who envisioned the project and invested 'his heart and all his strength', predicts it will engender 'a new renaissance' in Miami Beach and beyond, as well as providing a vibrant new venue for interaction between North and South America.
It may sound like marketing bombast, but Faena's prophecies tend to come true. A former fashion entrepreneur-turned-real estate impresario, who dresses in white like a tropical evangelist, Faena performed his first revivalist miracle in the early Noughties on the derelict docklands of Puerto Madero in his native Buenos Aires. With the injection of a bracing dose of urbanity and culture in the form of a $200m scheme – including a Foster + Partners-conceived apartment block and a Philippe Starck-designed conversion of a former grain silo into a luxury hotel with a cutting-edge arts centre (W*75), all funded by Faena's business partner, Ukrainian-born billionaire Len Blavatnik – this no-man's-land morphed into one of the city's most fashionable and expensive neighbourhoods.

The lead architect on Faena's final push in Miami – comprising the Faena Forum, Faena Bazaar and Faena Park – is Shohei Shigematsu, the OMA partner who heads its New York office. An early concern of the master plan was how to visually straddle Collins Avenue, so that the centre would merge with the hotel and high-rise across the street in one cohesive urbanscape. Working closely with Faena, Shigematsu and his team conceived a series of verdant public spaces to form a single, unifying topography.

Central to it and, indeed, the dynamic core of the Faena District, as it has been tagged, is the Forum, a hybrid structure for presenting exhibitions, all variety of performances, as well as culinary happenings, lectures and debates, along with conference and corporate events. Shigematsu calls it 'a culture machine'. Faena believes it will elevate everyone. His wife, Ximena Caminos, an Argentine curator and the executive director of the Faena Art Center in Buenos Aires, will oversee the Forum's programming with counsel from international advisers.
Since the Forum occupies a small, wedge-shaped site, the architects felt that if they were to contain all its activities in a single volume, the building would look cumbersome and out of proportion with its residential-scale neighbours. As a more elegant solution, they instead conceived the 42,565-sq-ft facility as a contiguous cylinder and cube composed of cast concrete and glazing. In addition to the two volumes better respecting the neighbourhood – with the cylinder echoing Miami Beach's many Streamline buildings – and providing more surrounding public space, where they meet is concealed a central loading dock and an entry to subterranean parking. The Forum's facade of irregularly arching concrete and glass infill further nods to its surroundings by mimicking the contours of tropical foliage, while also, perhaps more critically, meeting hurricane guidelines. Since intense sun and sudden downpours are Miami constants, the cylinder cantilevers over the Collins Avenue plaza to provide shade and shelter at its entry, and the cube offers a secondary entry on the bayside plaza, where a new marina may be added in future so locals may arrive by boat.

As befits Faena's grand cultural ambitions, the cylinder is inspired by the Roman Pantheon as well as New York's Guggenheim Museum and, like them, features a soaring amphitheatre with an oculus in its dome. The cylinder and cube conjoin on the third level in a sprawling, 8,500-sq-ft assembly hall. This may be divided into two contrasting event spaces (the cube features a black box theatre) or with one space serving as symbiotic support for an event in the other.

On the block adjacent to the Forum, the architects converted the former Atlantic Beach Hotel into the Bazaar, which promises a specially curated, London Dover Street-style retail experience, though here with a distinctly Latin accent. Local preservation rules meant the architects were constrained in how much they could alter the original structure. However, they did insert a second entry on the building's south facade to better connect it with the Forum, and freshly encased its interior courtyard with a white brise-soleil that makes a dramatic counterpoint to the vermillion-hued passageways that bound the interior's upper levels. On the roof sits a new glass-enclosed multipurpose space with ocean views.
Adjoining the Bazaar is Faena Park, a new OMA-designed parking structure. Innovative parking facilities are a signature of Miami – where there is little in the way of public transport and parking is a precious commodity – and this building promises a new level of sophistication. Composed of pre-cast concrete panels with slanted perforations to provide adequate air circulation, and colourful glimpses of the cars stacked inside, the building will feature two glass-enclosed elevators, one for cars and the other for valets.

There is further subterranean parking under all three structures. This commitment to plentiful parking demonstrates how detail-conscious Faena and OMA have been to the needs of the local community. Shigematsu notes it was an expensive gesture, largely due to the technical issues involved in tremie slab construction (placing concrete below water level), a requirement because of the barrier island's porous limestone bedrock, rising sea levels, and high water table. Indeed, Miami Beach's struggle with the tidal flooding of its streets has resulted in it embarking on a $400m electronic pump project.

Faena envisions his lovingly crafted district as having 'a big value for Miami in a hundred years'. For that to be possible, another visionary will have to come up with an ingenious design solution to the perilously encroaching waters. Otherwise, a century from now, if current predictions become reality, the Faena District may be another city of beauty and culture lost to the sea. 

As originally featured in the December 2016 issue of Wallpaper* (W*213)
INFORMATION
For more information, visit the Faena website and the OMA website
Receive our daily digest of inspiration, escapism and design stories from around the world direct to your inbox