NOA gives the traditional courtyard house a bold twist in Aurora, Oregon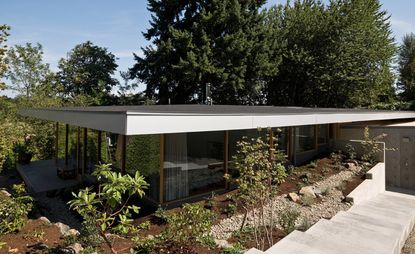 (Image credit: TBC)
In a neat architectural hat trick, American architect Andrew Heid has fused the traditional courtyard house with Neutra-inspired undertones to create a brand new single family house in Aurora, Oregon.
See the interactive floor plan of Courtyard House by NOA

Heid's visionary design for his own parents, a single level residence sunk into a hillside, may have a modest footprint, but through a subtle interplay of private and common space, it sets a new standard for inter-generational living.

Heid - whose NYC-based firm NOA designed 865 UN Plaza (opens in new tab) (a residential commission in New York), as well as an award-winning proposal for the Highline (opens in new tab) - conceived the Courtyard House as 'an inhabited landscape contained within a modernist slab'.

Taking the indoor/outdoor aesthetic of the traditional courtyard home to the next level, Heid composed a series of six interior spaces, framed around a planted, glassed off circular garden. A covered terrace is created by the overhang of the roof.

The entrance is arrived at via an underground garage court and the six interior spaces are divided by two L- shaped cores containing bathrooms and storage areas. They can be used as daytime living or nighttime sleeping areas, giving the idea of flexible space a whole new meaning.

The courtyard optimises views and passive solar gain, but unlike the traditional house of that genre that typically offers visual privacy to its inhabitants, the glass walls of Heid's design embrace the surrounding landscape. The result is a residence cradled by greenery, sunk into the earth, yet filled with light.