'Never Built: Los Angeles' presents an alternative vision of the US city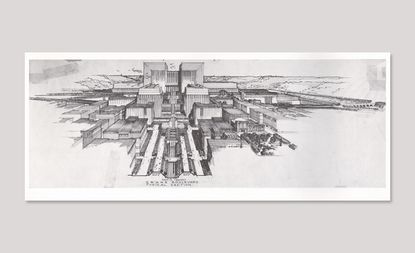 (Image credit: Eric Lloyd Wright)
No two words were ever so compelling as 'What if?' They evoke nostalgia, hope and curiosity, all of which the Architecture and Design Museum in Los Angeles inspires with its latest exhibition, 'Never Built: Los Angeles (opens in new tab).'
Curated by Sam Lubell and Greg Goldin, and designed by Clive Wilkinson Architects, the show (and its companion book (opens in new tab)) brings to life an alternative vision of Los Angeles - one in which the Goodell Monorail could whisk Angelenos from downtown to a glass-domed Pereira and Luckman-designed Los Angeles airport; where Harlan Georgescu's Sky Lofts housing lots are suspended over a busy freeway; or where Kelker, De Leuw and Co's subway plans stretch from the Valley out to Long Beach before much of the city was built out.
Visitors are easily drawn into the show's fantastical concepts courtesy of copious models, a fly-through video by Shimahara Illustration, even a Lego model made of 67,000 pieces (the largest one outside of Legoland.) Enjoyable and edifying, 'Never Built' nevertheless aspires to be something more than a joy ride through castles in the air.
Each project came very close to realisation, said Lubell, but was often curtailed by lack of funding, overprotective neighbourhood groups, or labyrinthine political machinations - factors that still sadly play out all too often in contemporary city-building. Underlying the exhibit is a call to arms to expand a resident's purview and to help build a city he would actually want to live in.
Rather than blessing the projects with the imprimatur of excellence, the exhibition rather challenges viewers to separate the wheat from the chaff. 'We want give people ideas that really would have changed the city for better or for worse,' said Lubell. Would a ski slope near the beach really be a good idea? Would an offshore freeway built on landfill between Santa Monica and Malibu actually help alleviate traffic? It's up to visitors to decide.
Visitors are easily drawn into the show's fantastical concepts courtesy of copious models and this fly-through video by Shimahara Illustration