A refreshed Musée National de la Marine shows off its expanded exhibition spaces in France
Musée National de la Marine in France has been brought to the 21st century by a team comprising h2o Architectes, Snøhetta and exhibition designers Casson Mann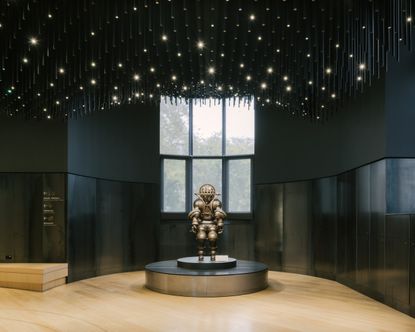 (Image credit: Musée national de la Marine, Paris, 2023 ©Maxime Verret for h2o architectes and Snøhetta )
France's Musée National de la Marine has been brought up to date by a team comprising h2o Architectes, Snøhetta and exhibition designers Casson Mann. The national maritime museum reopens this month after a six-year closure for renovations.
Musée National de la Marine: a history
Until its closure in 2017, this was where maritime experts would pore over historic artefacts, and where retired naval types would enthuse about the joys of model ships to their grandchildren.
Its home is Gabriel Davioud and Jules Bourdais' gently curving 1878 Palais du Trocadéro, which was reworked by architects Louis-Hippolyte Boileau, Jacques Carlu and Léon Azéma into the Palais de Chaillot for the 1937 World's Fair. Its front door is right next to that of the Musée de l'Homme, and it's the last museum in Paris's Colline de Chaillot area to go through a major overhaul.
A delicate, contemporary transformation
The three practices were brought in to broaden the appeal of this long, dark, narrow museum, and to increase the exhibition space. At the same time, rather than just focusing on France's naval history, it needed to present all manner of marine issues, from commerce, sport, leisure, travel and war, to peace, fear, loss and survival. To that end, for Roger Mann of Casson Mann: 'It was about striking a balance between introducing modern immersive elements with a more traditional display of the incredible collection.'
The exhibition designers have form with Snøhetta, as they both worked on the new museum at France's world-renowned cave painting site Lascaux. Meanwhile, h2o last year completed the Musée d'Art Moderne de la Ville de Paris.
In the new-look 190m-long museum, a big open lobby area boasts a timber reception desk, lockers and the inevitable bleacher seating. This leads on to the double-height gallery space, which is punctuated by three super-size sculptural elements from Casson Mann: a 7m-tall ship's hull, a clutch of shipping containers, and a continuous wave projected onto a new curved wall the width of the gallery. Meanwhile new mezzanines give the feel of being on the deck of an ocean liner, and also increase the exhibition space.
At the end of the ground floor is the show-stopper: La Réale is a gilt sculpture from one of Louis XIV's galleys. Suspended at the height they would have originally been seen, these vast, intricate pieces look like the inspiration for a WWF wrestler's belt.
As well as unblocking all the windows, the architects rediscovered an unused staircase to the lower ground. Displayed down there are more model ships and moody oil paintings of swollen seas by late-18th century landscape painter Claude-Joseph Vernet. This might be where the museum's former loyalists find their comfort zone.
Receive our daily digest of inspiration, escapism and design stories from around the world direct to your inbox