MSCTY asks, what does unbuilt architecture sound like?
Sound and architecture studio MSCTY creates a collection of music and sounds inspired by unbuilt buildings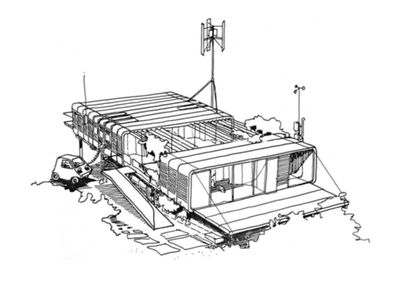 (Image credit: Richard + Su Rogers Architects (in collaboration with John Young))
Here's a confounding koan: 'What does an unbuilt building sound like?' For MSCTY and Nick Luscombe, the creative director of the Tokyo-based sound and architecture studio (which is pronounced 'mew-zee-see-tee'), and writer and curator Clare Farrow, the answer is to be found in their latest sonic project, MSCTY_Expo [Zone 001] Unknown Pleasures – an intriguing collection of music and sounds ranging from five-minute electronic tracks, and ambient and spoken word pieces to full-blown musical suites, each inspired by an unbuilt building or space.
MSCTY and Unknown Pleasures
'We were curious about how a musician or sound artist might respond to a place that has not actually been built, and if it was possible to create a new way for architects and musicians to engage via new dialogues,' says Luscombe, who, with Farrow and OPPO, debuted a specially commissioned soundtrack to Kengo Kuma's Bamboo Ring installation at Milan Design Week in 2021.
A year in the making, Unknown Pleasures paired nine musicians with nine architects, including Bill Fontana, who worked with Nieto Sobejano Arquitectos on its unrealised New National Center for Contemporary Arts in Moscow; Loraine James on Ab Rogers' drawings of cocoon structures; Yuri Suzuki, who created an acoustic simulation of Richard Rogers' Zip-Up House; and Yuval Avital, who composed a 12-movement homage to Daniel Libeskind's Theatrum Mundi, itself composed of 12 abstract works on paper, collage and paint that imagine a future city gripped by an unknown infection.
Luscombe and Farrow were careful to keep the briefs open-ended – 'It was really up to the musicians how they developed their track' – though the musicians had Zoom calls with their paired architects and were given access to drawings, client pitches and concept notes, with each piece taking about two months to complete.
'Each musician threw themselves fully into the project,' Luscombe says, 'and there was a huge deal of respect for each other's work, and a hunger to understand each partner's creative impulse.'
Unknown Pleasures will be released in February in cassette tape format in a limited edition of 100 box sets ('For people who want a more tactile experience of music,' Luscombe explains), though they will also be available on MSCTY's website and on streaming platforms, Spotify and Apple Music. For now, there are no plans for a live performance, Luscombe saying only that 'it's being discussed'.
Working on Unknown Pleasures, he adds, has been hugely inspiring, not least because it has created new design dialogues by bringing together two very different disciplines. 'My background is very audio-focused, but I have always felt sound design is unfairly considered a lesser partner when compared to visual design. This project, for me, feels like the two disciplines have merged in a very organic way.'
To that end, in the works is a collaboration between Japanese sound artist and composer Midori Takada and Kengo Kuma, based on the architect's V&A Dundee, which will be released later this year as a book and double CD. As they say, stay tuned.
MSCTY_Expo [Zone 001] Unknown Pleasures will be released in February 2023. Limited edition boxsets are available for sale at msctye (opens in new tab)ditions.ban (opens in new tab)dcamp.com (opens in new tab)
mscty.space (opens in new tab)
Daven Wu is the Singapore Editor at Wallpaper*. A former corporate lawyer, he has been covering Singapore and the neighbouring South-East Asian region since 1999, writing extensively about architecture, design, and travel for both the magazine and website. He is also the City Editor for the Phaidon Wallpaper* City Guide to Singapore.