Mexico's Mextrópoli 2019 explores cities and architecture across generations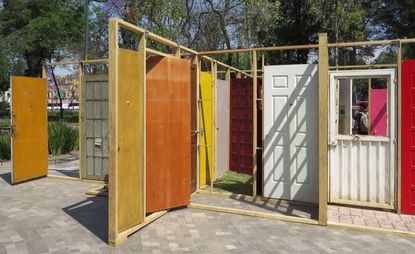 (Image credit: Luiza Vidotto)
Wallpaper* Newsletter
Receive our daily digest of inspiration, escapism and design stories from around the world direct to your inbox
Thank you for signing up to Wallpaper. You will receive a verification email shortly.
There was a problem. Please refresh the page and try again.
At Mextrópoli 2019, Mexico City's annual architecture and city festival (9-12 March 2019), many questions were posed around the theme 'Where the City Ends'. During a round-table discussion between international architects David Chipperfield, Guillermo Hevia, Frida Escobedo and Mariam Kamara, Chipperfield addressed the topic of how the next generations could improve the life of cities.

'The profession has to consider how we can be societally effective,' he said. 'Architecture doesn't sit in a gallery or on a bookshelf. We are a service dependent on societal engagement.' It's a sentiment that a group of students confronted head-on at the festival's outdoor-installation activation at Alameda Central, Mexico City's oldest public park, where 18 projects were presented by various studios and architecture and design institutions.

One of the most popular ones, a collection of 31 doors placed in various sequences that allow entry from one to another in a haphazardous, free-flow manner, was the idea of three fourth-year architecture and urbanism students from the Federal University of Rio de Janeiro, aided by peers from the Faculty of Architecture at the National Autonomous University of Mexico (UNAM). 'We're presenting a city without limits,' said Daniel Carvalho Mendonça, one of the Brazilian creators. His collaborator, Felipe Ross de Mattos Oliveira added: 'Political limits in a city aren't real. When people open doors, they're transforming these limits.'
The doors were fitted with peepholes, displaying tiny photographed images of daily life in the city, blocking the real vista until one opened the door to discover that such a constricted view does not exist. Rather, one was confronted by the vibrant city park, its towering spring-time jacarandas, and a smorgasbord of citizens from all walks of life.

By sourcing doors from various suburbs in the city, each with its own economic and social implications, they were uniting contexts not often integrated, transforming Mexico City's story to one where, as co-creator Gabrielle de Almeida Maia da Silva said, 'architecture contributes to breaking barriers'. Besides its main two-day conference, where Chipperfield and Kamara formed part of the prestigious speaker line-up, Mextrópoli hosted workshops, discussions and film screenings, and included a variety of exhibitions openings, many of which will be running into the coming months.

Independent architecture platform Liga presents The Horizon is Ours! (until 31 May) by Pedro&Juana, again talking to the city's imagined limits. Their 'diorama' presents a 'window into the city', where each object inside this scene represents an element of daily life in Mexico City, its scale and false perspective questioning the power of the subject and its ability to contain, compose and fragment a constructed world.
In addition, Skidmore, Owings & Merrill (SOM) – a global architecture, interior design, engineering and urban-planning firm that has defied city limits (it's responsible for Dubai's groundbreaking Burj Khalifa) – is also exhibiting in Mexico City. 'SOM: Art + Engineering + Architecture' (on until 9 June at the historic Antiguo Colegio de San Ildefonso) is a display of over 30 structural models of projects that have created new dialogues within their urban environments – from the United States Courthouse in Los Angeles to Poly International Plaza in Beijing. Supported by sketches, sculptures and videos that demonstrate the company's ethos of uniting engineers, architects and visual artists in its more than 80-year history, this exhibition provides next-generation architects even more lessons to learn from.
INFORMATION
For more information visit the Mextrópoli website
Receive our daily digest of inspiration, escapism and design stories from around the world direct to your inbox