Memory lane: 'Childhood ReCollections' opens at Roca London Gallery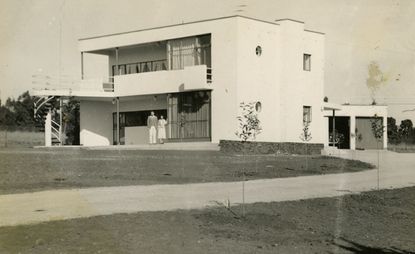 (Image credit: TBC)
Visitors to Roca's (opens in new tab) curvaceously cavernous London space are being invited to take a trip down memory lane. The upscale bathroom unit manufacturer is dedicating part of its showroom to a new exhibition, 'Childhood ReCollections: Memory in Design'.

Curator Clare Farrow has persuaded half a dozen internationally acclaimed creatives to explore their early memories and reflect on how they impacted on their career choices. Her impressive line-up comprises architects Daniel Libeskind, Kengo Kuma, the Madrid duo Nieto Sobejano, Denise Scott Brown, and Zaha Hadid, who designed the showroom, along with milliner Philip Treacy.

London design firm Mentsen (opens in new tab) has created a large, retro-looking cabinet reminiscent of old-fashioned museums, for each participant. To some of us, it might seem that Hadid, Kuma, Libeskind and Treacy are rarely out of the public eye. Is there anything we don't already know about them?

In fact, during her interviews with each, Farrow unearthed some intriguing, lesser-known details about their early lives. Libeskind's mother had a little private underwear shop in the Polish city of Łódź, and those garments were his first experience of structure and geometry; Hadid was much impressed by the mosque in Cordoba on a family trip; in Johannesburg, Scott Brown lived in an International-style house designed by her mother, where she remembers 'shinnying up pilotis, and playing ships on the spiral balcony stair'; and Kuma played in Second World War bomb shelters in the hills near his house. Those, he said, may have inspired his use of holes in his architecture.
In Mentsen's cabinets, photographs and childhood items sit alongside scents evoking these memories, that visitors can puff into the air via little perfume pumps. Farrow even inspired Libeskind and Kuma to create original sketches for the show – the former of the ghetto street where he lived, with his flat circled in red wax crayon, and the latter of the traditional wooden house where he grew up.
INFORMATION
'Childhood ReCollections: Memory in Design' is on view from 17 September 2015 – 23 January 2016
ADDRESS
Roca London Gallery
Station Court
Townmead Road
London, SW6 2PY
VIEW GOOGLE MAPS (opens in new tab)