Max Dudler bridges past and present in his railway museum visitor centre in Bochum
A visitor centre for the Eisenbahnmuseum Bochum, the German city's private railway museum, this minimalist brick volume is the work of Swiss architect Max Dudler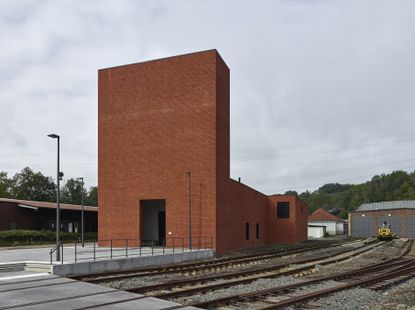 (Image credit: Stefan Müller)
Max Dudler's new visitor centre for the Eisenbahnmuseum Bochum displays the power of clarity of thought and expression in an environment defined by movement and noise.

Designed more as a gateway and a point of orientation than as an event in its own right, the building sits at the heart of the Bochum's private railway museum, a First World War-era railway depot that boasts a semi-circular roundhouse, a working turntable and water tower and more than 120 historic steam locomotives.

Functioning as a terminus for visitors arriving by train, the building consists of a ticket office and information desk, a shop, cloakroom and meeting room and a main exhibition gallery. This contains a preview of the delights to come in the form of a 9.6 ton, 101-year-old locomotive that sits inside the gallery, improbably, like a steam-powered ship inside Dudler's single storey, brick-built bottle.
The architect's use of traditional, coal-fired Westphalian clinker bricks, once a common sight in the Ruhr valley, is a direct material reference to the building's context as is the 16-metre-high oculus-topped tower that forms the building's main entrance, which echoes the heritage infrastructure that surrounds it.

By acknowledging its architectural and historical context in this way, the building deploys material and contextual strategies that have already been explored by Dudler in his Sparrenburg Visitor Center in Bielefeld and in the award-winning complex of new and restored buildings he designed for the entrance of Heidelberg Castle.

The 70-year-old Swiss architect has insisted that being modern is no excuse for ignoring history and in this sense the Eisenbahnmuseum Bochum is the epitome of a Max Dudler building, despite its modest size. Sculpturally uncompromising and understated to the point of austerity, it is the product of a desire to achieve a sense harmony between the present and the past.
INFORMATION
maxdudler.de (opens in new tab)