See Arch designs Maui house around its site's views
This Maui house is a private retreat focused on its plot's striking views, and designed by San Francisco-based See Arch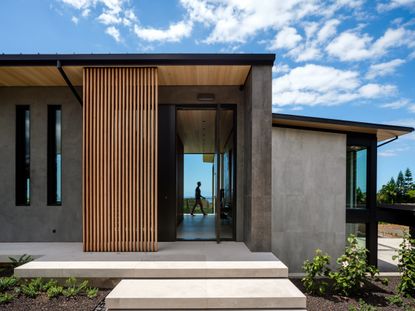 (Image credit: Travis Rowan)
This retirement property is all about views. To the north are this Maui house's horse paddock, orchards and ocean vista, and to the south is the peak of Haleakalā volcano. The clients bought the land decades ago. The site is on Hawaii's second biggest island, on a hillside in the village of Haiku on the north shore, and is a very visible project, says architect Sarah Ebner of See Arch: 'But it was designed to be terraced into the hill, to embrace the natural topography and minimise its overall impact on the site.'
Maui Retreat's ocean view gets a dramatic 'reveal' as visitors enter the oversized (1.5m to 3.5m) pivot front door. 'Pivot doors are tactile and require such intentional operation that we all felt it was an appropriate fit for this moment,' adds Ebner, who founded See Arch in the San Francisco Bay Area in 2016 as a women-owned and -operated design studio (they worked on this project with Nick Wagner Architects as architects' of record). The house is divided into two wings: the two-storey east wing is the private wing and the west wing (which just has an upper level) is for entertaining.
Meanwhile, those inside the 600 sq m house can look both north and south from the common rooms and main bedroom on the top floor. And all those windows were treated as a design feature beyond simply framing the spectacular views from the plot, Ebner says: 'They were placed to create moments of connectivity between indoor rooms, outdoor courtyards and across the home.' Meanwhile, two garden courtyards connect interior spaces to verdant Maui planting.
Inside, there are travertine wall finishes, warm cedar ceilings and more industrial plywood-formed concrete elements. With its subdued finishes and feature walls, Ebner explains, 'the interior architecture was to remain understated', to emphasise not just the views but also the clients' art collection. Their eclectic collection of high and low art, ranges from 10th-century sculpture to contemporary paintings. Ebner and her team worked carefully with the clients, following their lead in choosing what pieces to showcase where.
'We pulled inspiration from gallery moments, while imagining the interiors to open out and almost disappear into the site beyond,' she adds.
INFORMATION
see-architecture.com (opens in new tab)