This airy Martha's Vineyard retreat by Architecture Research Office is a home for all seasons
In our October 2007 issue (W*103), Wallpaper* took a Stateside trip to the town of Chilmark in Martha's Vineyard to explore a new home by Architecture Research Office, designed for a retired rabbi and an art and design curator. ARO has received numerous accolades over the years for residential, retail and cultural projects, and celebrated its 25th anniversary in 2018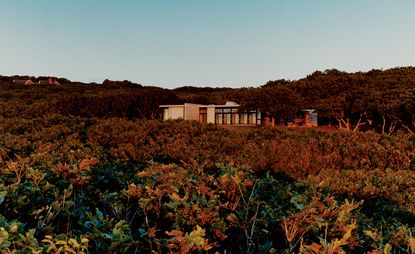 (Image credit: Thomas Brodin)
It can be hard to stand out on Martha's Vineyard. Overstatement – exemplified by, for instance, the actor Larry David's 70-acre spread, complete with stainless-steel outdoor kitchen – is one way to go about making a dent on this deluxe getaway for the Eastern Seaboard's liberal élite. The other, and better, way is to understate, understate, understate.

Architecture Research Office (ARO), a Manhattan-based practice, recently completed a sublimely understated house for a retired rabbi and an art and design curator. The couple, who commissioned ARO five years ago, have owned the site, in the town of Chilmark, since the mid-1970s. Their previous house, a single, water-focused band designed by local architect Richard Henderson, was fine for 30 years but, with decreased commitments – the rabbi has retired – the couple were spending more time on the Island, as Martha's Vineyard is known locally, and wanted something new.
When they first approached ARO in 1999, the firm was just too busy. The success of its Times Square US Armed Forces' Recruiting Station – a one-note 'duck' of a fluorescent flag of a building on a busy Manhattan traffic island – had thrown ARO into a whirlwind of commissions and projects, ones that didn't allow time for such a (relatively) small and (still relatively) low-budget residence. A few years went by, though, and Adam Yarinsky, principal and co-founder of the firm, found the time to take on the project.

The clients were interested in reintroducing a landscape element into the site – something that had been overlooked with all the attention on the admittedly spectacular water view – and one of the first things a visitor notices is the front courtyard garden, designed in very close collaboration with Maine-based landscape architect Michael Boucher. Low stone walls, the rock chosen following months of local research, create a level of delineation that reiterates what is the house's main architectural detail – a series of wooden walls constructed of specially made tongue-and-groove cladding.
The walls jut out from inside and sweep in from outside, and it's this interrelationship between inside and outside space, private and very private, that continues through the entire house. Yarinsky points to a series of study models based around the clients' needs – three bedrooms that could also be used as studies; an open and convivial kitchen; flexibility of space; and lots and lots of light – that figure and reconfigure basic blocks into a series of meandering rooms. The final plan locks three similar spaces together in a criss-cross pattern that allows, on a summer day, six people to comfortably inhabit the space without stepping on each other.

The inside-outside play is more considered than it looks, Yarinsky says. Part of the brief was to create a house that was winter-ready, so the architects had to figure out a way of making the interior feel cosy without losing the sense of fluidity between inside and out. A wall of German-designed (architects' code for simple but hi-tech) glass doors faces the water and opens onto a deck shielded from the harsh New England wind by an extension of the living room wall.
'You want this kind of generosity of space and openness,' Yarinsky says of the project. 'But everything has to be carefully considered and controlled.' The architects went through six iterations of the wall design, each version of which toyed with ideas of shadow and the interplay between light and darkness, summer and winter, inside and out. It's a subtle intervention, though, and it's this subtlety that Yarinsky – and the clients – find most appealing about the project and its scale.

'What was really refreshing about working on this site is that it's a normal house; it's not bloated,' Yarinsky says. The clients wanted the house to be a third bigger than it is, but ARO, and the threat of higher construction costs, talked them down. Still, at 2,500 sq ft, it's a good size and feels twice as large due to its airines
The walls are in Alaskan cedar, the floor is unstained white oak, and the stone details are in Italian lava basaltina, hand-installed by a mason who was flown in specially. Vertical zinc walls round out the purposefully limited material palette, and three faceted skylights introduce both that all-important daylight and a moment of surprising detail.

It's this element of subtle surprise that runs through the entire design. Yarinsky mentions the control architects necessarily have, but mitigates that often treacherous moment of 'I want you to feel this' with a realisation that these interventions had to be subtle. 'I don't think it's appropriate to live in a statement on that scale,' he says of domestic architecture. And this house, with its quietly perfect moments – a bedroom skylight, an impeccable sense of proportion – is an argument in favour of simplicity and understatement. It might look quiet, but it speaks volumes. §

As originally featured in the October 2007 issue of Wallpaper* (W*103)
INFORMATION
For more information, visit the Architecture Research Office website (opens in new tab)