Marina Tabassum on the 'architecture of relevance'
Dhaka-based architect Marina Tabassum – tipped by Frida Escobedo as one of 25 creative leaders of the future in Wallpaper's 25th Anniversary Issue '5x5' project – on architecture for human wellbeing and dignity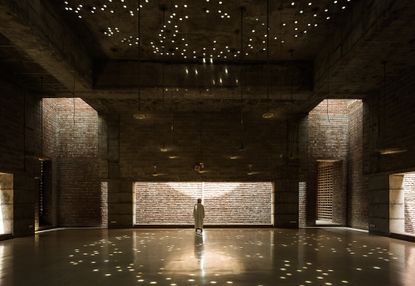 (Image credit: Sandro di Carlo Darsa)
At her eponymous studio in Dhaka, Bangladesh, where she was born and raised, Marina Tabassum is pioneering a new generation of architectural thought, calling for a focus on 'architecture of relevance'. She says, 'The market-driven building industry must focus on social and economic equity instead of solely profit-driven practice. We must rethink and re-evaluate our living habits and demands. Small changes can be powerful tools to influence major changes in the world.'
Tabassum has been a radical thinker since childhood. She recalls: 'I was interested in the creative aspects of things and questioning convention. Architecture offered me the freedom to think and rationalise my queries and to channel my imaginations into reality.'
Pioneering architect Muzharul Islam inspired Marina Tabassum to found her practice in 2005, and her ten-strong studio now has a portfolio that includes museums, community centres and private residences. There is a consistent focus on the relationship that contemporary architecture has with local materials, climate change, culture, history and the community. 'Every project has a strong research base that accumulates information and engages with the context,' Tabassum explains.
In 2016, she received the Aga Khan Award for Architecture for one of her most notable projects, the Bait ur Rouf mosque (above). Situated in a dense neighbourhood on the outskirts of Dhaka, the one-storey building poetically weaves light and vernacular materials, creating modest communal spaces within the busy landscape. Characterised by its raised plinth, light wells and intimate courtyards, the structure provides a humble place of worship where the local community can host events and gatherings.
Marina Tabassum: bettering lives
Tabassum is currently working in the Rohingya refugee camps in Cox's Bazar, in south-east Bangladesh, and designing mobile modular houses for ultra-low-income people in the country's coastal areas.
Beyond her humanitarian work, she is a leading advocate for a more environmentally responsible architecture industry. 'To make a better world, the first step is to realise that we are heading towards extinction as a species because of our actions of the past century and our inaction to change our ways,' she explains.
She has also been a visiting professor at Dhaka's BRAC University since 2005. 'I see teaching as a bridge between generations,' she says. 'As a teacher, my responsibility is to inspire students and guide them towards their potential strengths. At the same time, I am rejuvenated by their new ideas and their perceptions of the world and life in general. I feel it's a reciprocal process where one is informed by the other on different levels. Both the teacher and the student grow through the process. That's why I teach.'
As the university's course coordinator for Contemporary South Asian Architecture, Tabassum has been a keen promoter of architecture that responds to and honours local context. 'The architecture curriculum in my school where I studied, Bangladesh University of Engineering and Technology, was formulated by Professors from Texas A&M in the 1960s,' she recalls.
'I have learnt the fundamentals and values of good architecture from the Western-centric education system. But in practice, I re-evaluated all my learnings and appropriated them according to the context I practiced in.' According to Tabassum, 'every region must appropriate architecture education and practice based on their context and time. One needs to go through a process of unlearning to define one's own architecture practice, process, and language.'
Tabassum's work is human, refined and well-considered. However, what sets her apart from fellow architects is her critical thinking and holistic approach. She isn't interested in bold, aesthetically pleasing forms but in ways in which she can better the lives of others. 'A work of architecture may not always result in a building or an object that is visually pleasing,' she says. 'Depending on the context, it could mean the wellbeing of the human condition and environment.'
INFORMATION
mtarchitekts.com (opens in new tab)
A version of this article appears in Wallpaper's October 2021, 25th Anniversary Issue (W*270), on newsstands now and available to subscribers – 12 digital issues for $12/£12/€12 (opens in new tab).
Meet more creative leaders of the future nominated by architect Frida Escobedo here.