Relaxing retreat: M House's stark white form strikes the perfect balance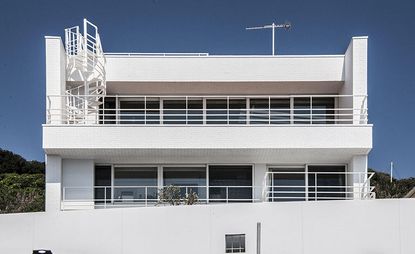 (Image credit: Ryuji Nakamura & Associates)
M House is a first for Ryuji Nakamura. A pupil of renowned Japanese architect Jun Aoki, Nakamura set up his independent practice in 2004 and went on to create delicate temporary installations and imaginative retail interiors in Japan, to great acclaim. His work has been widely acknowledged for their creator's knack for precision, ethereal quality and clever use of intricate, repetitive patterns.

Fast-forward twelve years and the architect has just completed his largest project to date – a 290 sq m house, sitting along the ocean shore of Eastern Japan. It also marks a clear departure from its architect's previous work.

Nakamura's clients, longing for a 'marine house with an aged look', commissioned him (in collaboration with an interior designer and a landscape firm) for their dream retreat – and M House was born.

Sandwiched in-between two roads, M House is a balance between disciplines. Nakamura took a modest approach, feeling it as the architect's duty to design a mere 'neutral background for the interior and the plants yet to come'. If the entire villa project encompasses the design of interior, structure, exterior, and landscape, he pondered, it is up to him to design only the middle two.

The structure is a bare reinforced concrete framework clad in white-painted brick tiles that help the exterior withstand the salty ocean air. Together they make the house look as if 'awaiting a renovation', according to the architect, who mentions the white-washed panel placed halfway up the concrete interior wall as an example of the kind of 'unfinished atmosphere' that 'helps residents relax'.

The landscape designers responded to the architecture with a selection of tree and plant species, placed against Nakamura's stark white geometries. Meanwhile, the interior designers used the architect's neutral background as an invitation to constantly renew the setting as if it were a trendy Tokyo fashion store.

'This simple ordinary structure allows the residents to expand their imagination by constantly updating the interior and the garden', says Nakamura. 'It is this unfinished design that stirs the dweller's imagination of a future renovation'.
For more information visit the Ryuji Nakamura website (opens in new tab)

Photography: Ryuji Nakamura & Associates