Low profile: the Muxin Art Museum is a delicate lakeside addition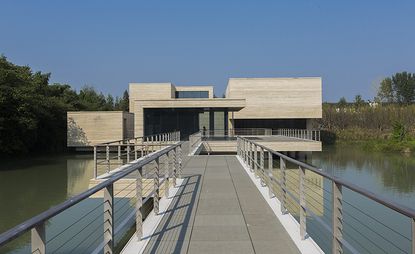 (Image credit: Shen Zhonghai)
A collection of simple low-slung modernist cubes 'floating' above a lake in Wuzhen, China, is the latest cultural addition to the area's popular 'water-town' tourist resort, a maze of traditional canals with stone lanes and classic shop-houses about an hour's drive north of Shanghai.

The privately owned museum is dedicated to the artist, scholar, poet and writer Mu Xin (1927-2011) who was born in the area, imprisoned during the Cultural Revolution, and subsequently moved to the United States.

The 6,700 sq m building was designed by the New York-based architect Hiroshi Okamoto who, before co-founding OLI Architecture in 2010, worked with IM Pei on Doha's iconic Museum of Islamic Art, and the Miho Institute of Aesthetics in Japan.

According to Okamoto, reflecting a sense of local traditional vernacular while avoiding any hint of pastiche was key to the project. Here, this was achieved by placing a series of discrete volumes along an axis creating the sense of walking through the different levels and intimate spaces of a traditional Chinese village.

'We wanted to expand and contract space in a physical and experiential way while keeping the scale low,' explains Okamoto. Sixty percent of the building is at below grade with two stories above water.

The building's form may be understated but its dove grey concrete façade imprinted with the natural grain of timber boards (a nod to the local vernacular) is striking, particularly when illuminated at night. Okamoto says achieving the desired tone required numerous experiments while local craftsmen were specially trained to meticulously recreate the wood grain effect.

Inside, eight intimate galleries (including five permanent exhibitions showcasing Mu Xin's art and writing) have deliberately been kept somber reflecting the artist's preference for keeping his own home and studio darkened.

This makes the elegant light-filled stepped library overlooking a garden with a serene contemporary rockscape by the artist Liu Dan even more enticing. Two high walls comprising an intricate arrangement of alternating light and dark grey panels enclose the garden, reflecting the artist's trademark ethereal landscape ink and gouache paintings.
INFORMATION
For more information on the museum visit the website (opens in new tab)