Join our grand tour of Helsinki's booming architecture scene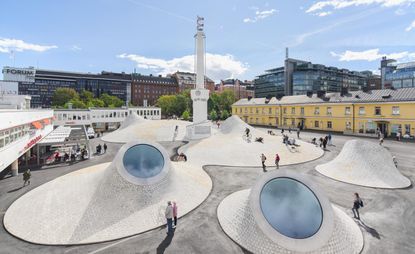 (Image credit: Mika Huisman)
Finland's capital Helsinki is one of the fastest growing cities in Europe with its current population of 645,000 inhabitants set to rise to 860,000 by 2050. A major construction boom is underway and with the docks having moved west out of the inner city to Vuosaari, vast swathes of land in central locations have now been freed up for development. Old industrial areas such as Jätkäsaari and Hernesaari (in the south-west), Pasila (in the north) and Kalasatama (in the north-east) are being transformed into residential districts, with the last two set to host new high-rise clusters, a huge change for a city with no skyscrapers until now.

As a result of the growth in population and tourism, the city is expanding its airport and recently inaugurated a new port terminal. It's also busy extending its metro system westwards to link up with the neighbouring city of Espoo. In August the stunning new Amos Rex contemporary art museum opened (not long after the city bravely rejected plans for a Guggenheim museum due to doubts about the proposed site and the excessive amount to be paid by the taxpayer). This December the state-of-the-art Helsinki central library will open in the Töölönlahti (Toolo Bay) area, further enhancing this already existing cultural district made up of the Helsinki Music Centre (by Turku-based LPR Architects), Alvar Aalto's Finlandia Hall and Steven Holl's Kiasma Museum of Contemporary Art.
According to Hanna Harris, director of Archinfo Finland, Amos Rex and the Helsinki Central Library Oodi, 'are marvellous additions to the urban fabric of the city. The latter is a project that has grown out of Finland's love of libraries and will be a well-deserved landmark for our amazing library system,' she says. 'It is also very much an urban project that will bring to the city centre a large public space for contemplation, learning, doing and sharing.' Yet Harris is keen to point out smaller recently completed gems in the city such as Maunula House by Architects K2S, a cultural centre and learning hub in the northern suburban neighbourhood of Maunula that opened in 2017, or the recent restoration by Mustonen Architects of Arne Ervi's beautiful Töölö library built in 1970. 'These are both projects that will stand the test of time and tap into the very heart of Helsinki and its people,' says Harris.

Elsewhere in the city, iconic buildings have also been refurbished, such as the Parliament building (which was extended in 2004 and fully upgraded and renovated between 2015-17 by Helin & Co Architects), or the 1952 Palace restaurant located in a building of great architectural value and wonderful views that was first constructed for the Olympics. Rautatalo (Iron House), an office building designed by Alvar Aalto and completed in 1955 that used to have a café inside, has also renovated its facades and interiors and reopened its covered marble courtyard to the public in 2017. After almost 30 years of closure, locals and visitors can now have lunch in its affordable canteen-style restaurant. For a city that is architecturally abuzz, it seems fitting that a new design and architecture museum is also being mooted for the not-too-distant future. Watch this space.
Receive our daily digest of inspiration, escapism and design stories from around the world direct to your inbox