Letter from Detroit: urban renewal is on the horizon for 2018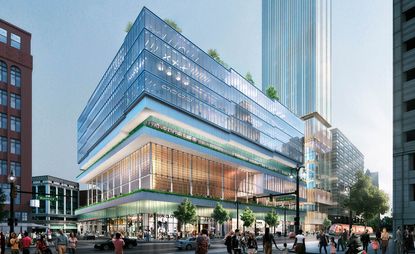 (Image credit: TBC)
Wallpaper* Newsletter
Receive our daily digest of inspiration, escapism and design stories from around the world direct to your inbox
Thank you for signing up to Wallpaper. You will receive a verification email shortly.
There was a problem. Please refresh the page and try again.
'There are cities that get by on their good looks, offer climate and scenery, views of mountains or oceans, rockbound or with palm trees; and there are cities like Detroit that have to work for a living,' wrote the late American novelist Elmore Leonard, who spent most of his 87 years in and around Michigan's Motor City.

It's a clear-eyed assessment of a place that has boomed and burned, soared and slumped, only to emerge from a string of scandals and a record $18 billion municipal bankruptcy to fight – or at least work – another day.

Long the crumbling poster metropolis for Rust Belt 'ruin porn', Detroit is now in the global spotlight as an urban laboratory. Mayor Mike Duggan and deep-pocketed investors (led by hometown billionaire-cum-real estate mogul Dan Gilbert's Bedrock and bolstered by JPMorgan Chase's 'Invested in Detroit' campaign) are determined to revitalize not only the city's built environment but also its middle class, and so skyline-transforming development is surging along with innovative small business funding schemes, neighborhood rebuilding initiatives, and job training programs.

For a city that has hemorrhaged some 60 per cent of its residents since World War II, promises of rebirth are nothing new (John Portman's Renaissance Center, for example, a five-tower urban fortress completed in 1977, failed to live up to its name), but the present transformation appears poised to endure – and further accelerate.
Locals tick off the milestones, including the construction of Ford Field to host the 2006 Superbowl; Gilbert's bold decision, four years later, to move the headquarters of his Quicken Loans business from suburban Livonia into the city's urban core (17,000 of the company's employees now work downtown); and last fall's announcement of Bedrock's $2.1 billion investment in building projects.

For Gilbert, 'Detroit is located at the intersection of muscle and brains.' It's also a city both grounded and elevated by great architecture, including the work of Daniel Burnham, Louis Kamper, Albert Kahn, Mies van der Rohe, and Minoru Yamasaki. Perhaps the next big name will be homegrown. Next month, the Museum of Contemporary Art Detroit kicks off the Hip Hop Architecture Camp. Created by Detroit native Michael Ford, the program is designed to introduce underrepresented youth to architecture, urban planning, and economic development through the lens of hip hop culture.

What will define the 21st century city? Detroit's downtown corridor is a fertile testing ground for hypotheses ranging from epic (ShoP Architects's multi-layered development of the 1,500,000 sq ft site formerly occupied by the iconic Hudson's department store, a 26 mile greenway for hiking and biking) to more humble (street furniture, pop-up shops, food trucks). We've rounded up the most exciting recent additions to Detroit and key projects slated for completion in the coming years.
Wasserman Projects
Operating more like a public/private kunsthalle than a typical gallery, Detroit native Gary Wasserman's world-class art space – located in the city's historic Eastern Market district in a 1917 building that was once home to the Detroit Fire Department's engine repair center – mounts shows on the scale of museum exhibitions, and leaves them up for approximately three months – enough time to build a world (musical responses, conversations, events) around each one. 'It's a different format of bring art to the public and the public to art,' he says. Photography courtesy of Wasserman Projects
Packard Plant Redevelopment, Fernando Palazuelo
May 2017 saw the much-anticipated groundbreaking for the largest renovation project in North America: the redevelopment of the Packard Plant. Designed by Albert Kahn as a massive manufacturing facility for Packard automobiles, the 40-acre site was acquired several years ago by developer Fernando Palazuelo. Its mixed-use makeover is expected to take more than a decade, but the first phase—renovating the Administration building and the bridge over Grand Boulevard—is slated for completion by the end of the year.
Hudson's Site Development, SHoP in collaboration with Hamilton Anderson Associates
Proof of Duggan's refrain that 'Detroit is going vertical' can be found in the city's largest new construction: the $900 million mixed-use complex on the downtown site where Hudson's department store once stood. Masterminded by SHoP in collaboration with Detroit-based architects Hamilton Anderson Associates, the 800-foot-tall building is designed to place community at its core, with what SHoP describes as 'an enclosed civic space that opens wide to welcome residents and visitors from surrounding streets'. Around that center will orbit retail, residential, food, and culture. The project, which broke ground in December 2017, is expected to take three years.
Book Tower redevelopment, Bedrock
One of Bedrock's four real estate mega-projects (along with the former Hudson's site, the Monroe Block, and the One Campus Martius building), the $313 million renovation and restoration of the long-dilapidated Book Tower will bring office space, retail, and residences to the 1926 skyscraper designed by Louis Kamper. The Italian Renaissance-style building was vacant when Bedrock acquired it a few years ago, and the renovation—now underway—should be completed in 2019.
Foundation Hotel, Aparium Group with Walter Cohen
Touted as 'adding another piece to the ongoing Detroit renaissance puzzle' when it welcomed its first guests in May 2017, this 100-room hotspot occupies the former headquarters of the Detroit Fire Department: a steel-framed, neoclassical gem that dates to 1929. Filled with the work of local artists (including Alex Porbe's streetlight-inspired restaurant illumination and charming car collages by Nick Jaskey), the property is also a showcase for a new generation of Detroit makers, who are responsible for everything from dapper staff uniforms to the BonBonBon chocolates in the minibar.
Joe Louis Greenway
This planned 26-mile trail through the cities of Detroit, Hamtramck, Highland Park, and Dearborn is envisioned as not only a place for safe walking, biking, and running but also a powerful connector of neighborhoods, parks, schools, historic sites, commercial corridors, public transit, and existing trails such as the Dequindre Cut—a Grand Trunk Railroad line turned riverfront greenway. A framework plan for the project will be developed this year, with construction expected to begin in 2020.
Shinola Hotel, Bedrock
Detroit-proud watchmaker-turned-lifestyle brand Shinola has partnered with Bedrock on the first hotel project for both companies. Gachot Studios and Kraemer Design Group have been tapped for the rehabilitation of three historic downtown buildings, into which 'Detroit-inspired design' will be infused – along with 16,000 sq ft of food, beverage, and retail. Slated to open this fall, the 130-room property will join a wave of new hospitality offerings including the Siren Hotel (which debuts this month in the Wurlitzer Building) and the Element Hotel (slated to open summer 2018 in the Metropolitan Building).
Receive our daily digest of inspiration, escapism and design stories from around the world direct to your inbox