Letter from China: the latest architecture projects herald a maturing urban landscape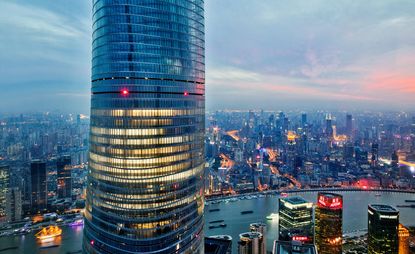 (Image credit: TBC)
Shanghai Tower, Shanghai, Gensler: Shanghai's most anticipated architectural marvel – launched last year after breaking ground in 2008 – tops out at 632 metres, making it the city's tallest tower and second in the world, at least for now. It's also been garlanded for its green initiatives. Its asymmetrical, spiralling profile helps it withstand typhoon winds.
'The end of China's "weird" architecture,' heralded a story in The Atlantic last year. The text outlined a warning from the very top of the ruling Party that the sort of ostentatious, provocative and overtly priapic design that had become familiar even in second and third-tier cities would no longer be approved for construction.

That would jive with the emergence of cosmopolitan practices like Shanghai's Neri & Hu, who emphasise local traditions and sustainability in their relatively low-key buildings. But it implicates visionaries like Ma Yansong of MAD, in Beijing, designer of dynamic, almost logic-defying landmarks, and foreign construction behemoths like TFP Farrells and SOM, who have unleashed some of their most radical designs on China's booming cities.
The government directive may protect your design sensibilities, but it won't curb building – not in the country responsible for seven of the world's 10 tallest buildings currently under construction. Though of the most ambitious developments coming to fruition, as many will be in second-tier cities like Nanjing and Wuhan as in first-tier behemoths like Tianjin, Shenzhen and Guangzhou.

Next year Nanjing will get its own Vertical Forest by Stefano Boeri, a heavily planted mixed-use complex of the sort the architect has already built in Italy. And SOM will open its bulbous Performing Arts Center in Guiyang, a dour industrial city hoping to boost its architectural profile.

It'll be fascinating to watch the maturing of China's urban landscape into the next decade – and whether the aptly named MAD will be forced to temper its penchant for zany, curvaceous spectacle. In this current crop of completed projects one can already sense a denouement.
Shanghai Tower, Shanghai, Gensler: The tower uses wind turbines, collects rainwater and has a double-glass skin for cooling and ventilation – allowing it to cut thousands of tonnes from its carbon footprint. And, like a vertical city, it accommodates sky lobbies at multiple levels that act as natural refuges for workers in the upper floors. For this, it was allowed to boast the first LEED Platinum rating among super-tall towers.
Eco-Tech Island Exhibition Center, Nanjing, NBBJ: Being a college town, some of Nanjing's most exciting architecture pops up on campus. Now the Yangtze River city has developed a whole new campus: an offshore incubator for technology and environmental science.
At the heart of Eco-Tech Island is this multi-peaked exhibition hall, echoing the nearby Zhong and Stone mountains. Each of the eight peaks, lined in lipstick-red tile, has an oculus or 'light cannon', driving natural light deep into the interior but also shading it from solar heat.
Chengdu Museum, Chengdu, Sutherland Hussey Harris: Sichuan's capital is low and organised – less chaotic than China's older, first-tier cities. So even at the city's central core, its natural-history museum had more space to spread out. It has a dazzling, faceted skin of copper alloy, a material mined in the region, that lifts up in places like a skirt to expose banks of glazing, connecting the indoors with the sprawling city square opposite.
A gaping portal at the centre of the building allows through traffic and sightlines, and even provides space for the local street market. Inside, galleries dressed in warm natural wood offer a calm retreat.
Responding to the region's reputation for catastrophic earthquakes, the building sits on a deep box foundation, making it capable of withstanding quakes up to eight on the Richter Scale.
Hongkou Soho, Shanghai, Kengo Kuma: Kengo Kuma would like his Shanghai office tower to contrast with the 'hard' buildings we're used to. For this property, north of the Bund riverfront, he's designed an overlay of 18mm aluminium mesh, pleated like a Gucci skirt and flaring out at the bottom to expose a glazed façade.
Inside, there is barely a solid expanse of wall, as the pleated aluminium continues, alternating with waves of stone that cascade over the workspaces – many of which are open for public hot-desking. Bathed in light and parcelled only by interior glass, the undulating spaces have a moody atmosphere that changes depending on the time of day.
HUB Performance Exhibition Center, Shanghai, Neri & Hu: Hongqiao, a suburb of 25,000 expats and exponentially more locals, is taking a great leap forward with new cultural and commercial district to complement its massive airport and rail hub. This performance centre by architect Ben Wood is the banner project at its centre. Yet elegant interiors by marquee designers Neri & Hu soften the industrial edges.
Obsessed with history and tradition, the firm has layered cool grey local sandstone in striations around a five-storey atrium, and built out interior balconies like jagged rock face. Behind, bridges and pathways lead to private meeting spaces dressed in slick wood panelling, brassy chainmail and Ming-blue tiles hand-painted with a pictorial history of the neighbourhood. But most noticeable is the soaring canopy of wood thatch across the vaulted ceiling.
The designers deftly bring warmth and intimacy to the cavernous three-storey 'treasure box' theatre with floating bamboo-screen walls. They reference the bamboo slips used in ancient China to record historical events.
Shaolin Flying Monks Theatre, Henan Province, Mailitis Architects: With slabs of stone from a local quarry, slats of laser-cut steel and some hocus-pocus wind technology, a small Latvian firm has given the Shaolin monks a platform for practicing their traditional levitation techniques.
Located in the Songshan Mountains, at the centre of the country halfway between Shanghai and Beijing, the stepped theatre encircles a wind tunnel that rises up through the centre in the shape of a lotus flower. The silhouettes echo the natural landscape.
This region is considered the birthplace of Zen Buddhism and kung-fu, and the monks incorporate those histories into monthly performances here. They also teach 'flying' classes to visitors and the community.
Greenland Center, Beijing, SOM: In the office-space gold rush, millions of nondescript square metres have materialised. But the 25-year-old real estate conglomerate Greenland doesn't go for nondescript; its office towers are among the country's tallest, most experimental and, appropriately, greenest.
This one, in an expanding business district halfway to the international airport, has won awards for its envelope of undulating trapezoidal glass modules, which self-shade for better temperature control. The glass also reflects natural light around the plaza, creating movement and energy. A centralised digital network and water-cooling systems will help reduce energy consumption by some 30 per cent.
Micr-O, Hangzhou, Superimpose: As Hangzhou sprawls to nearly 10 million people and farming scandals proliferate in the once-rural outskirts, the mission of the Sun Commune – to raise awareness of sustainable farming and healthy living – becomes more crucial. The commune commissioned this educational pavilion to introduce young city-dwellers to the Tai Yang Valley, west of town, where 100 farming families live among the bamboo and rice fields.
The structure is like a reverse Big Top. The central circle, exposed to the elements, is a stage for events, lectures and organic-farming workshops for local villagers.
H Queen's, Hong Kong, CL3: They'll benefit from the building's integrated gondola system, big enough to haul massive artworks into each space. A glass lift, likened to an 'art gallery sky arcade', creates an interactive experience between visitors and the upper galleries, which themselves take up more floor area than any other art hub in Central
Chao, Beijing, Smlwrld: Few designers have picked up on the Western penchant for boutique hub-hotels – lodging that's as much neighbourhood meeting-place as tourist refuge. Borrowing from the Brooklyn vernacular, Melbourne-based Smlwrld crafted a subtle and spacious contemporary space with none of the flash found in the local Hyatts and Shangri-Las.
The studio has 'curated' boutiquey lounges and dining rooms, a woody teahouse, library and a long, minimalist wood bar. The red-velvet cinema is bang on trend.
Credit to the raw concrete, slate and soothing, neutral reclaimed-timber that make millennials feel at home while Sanlitun rages outside.
Meeting Someone café, Beijing, Liu Xiaotao: As Beijing gravitates away from speed-dining, new restaurants have opened up that emphasise atmosphere over efficiency. Meeting Someone, in the Dashilar design district, is one such place, an old hutong shop remodelled by local architect Joyce Liu. She's encased a deep, windowed tearoom in polished concrete, while a floating perforated-steel staircase climbs to a dining room behind chainmail curtains
Receive our daily digest of inspiration, escapism and design stories from around the world direct to your inbox