Letter from Riga: dispatches from Latvia's intriguing architecture scene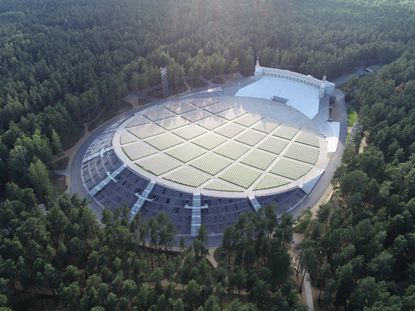 (Image credit: press)
The Latvian capital of Riga is a heady cocktail of period properties. The pedestrianised Old Town of is a manicured UNESCO heritage site with romanticism, gothic, baroque, classicism and modernism all jostling for position. Many of these buildings were restored after independence in 1991.

'I think we are good at heritage and reconstruction,' says architect Austris Mailītis, 'and we still have a lot to reconstruct.' His practice, Mailītis, is reworking the ruins of Cesis Brewery as an events and art space, while Sudraba Arhitektura is turning an old railway building into a big cultural centre. Likewise, architect Zaiga Gaile is enlarging Jaunais Rigas Theatre, which is housed in the 19th-century home of the carpenters' guild.
Riga's USP is its 5000 timber buildings, some dating back to the end of the 18th century, while the newest were built just before the start of the First World War. Gaile is the queen of timber, having renovated and extended 17 such properties including a lavish home for the country's biggest collector of 20th-century and contemporary Latvian art. Her practice is now turning an old cork factory made of brick into Zuzeum, an art museum to house his collection.

But it's not all reimaginings of existing structures. One new-build that woke the rest of the world up to Riga was the 2014 National Library of Latvia, by one of America's greatest late-modernists, the Latvian-born émigré Gunnar Birkerts – though it's incited mixed feelings among the locals. Will Adjaye Associates' new Museum of Contemporary Art follow suit? From the drawings, it looks like a better fit with the vernacular.

With few major projects at any one time in this small country, 'to make your own office in Riga is difficult because there's not much work,' admits Inese Baranovska, head of the Decorative Arts and Design Museum at Latvian National Museum of Art. 'Many talented architects are working abroad because of better salaries.' The upshot of that is a diaspora amassing a wealth of ideas and approaches, which may serve them well back home one day.