Helsinki's Pikku-Finlandia temporary event space is a student project come to life
Pikku-Finlandia, a sustainable, temporary wood event space, has opened to the public in Helsinki – and it's born of the ambitious thesis of two students, Jaakko Torvinen and Elli Wendelin, featured in Wallpaper's 2022 Graduate Directory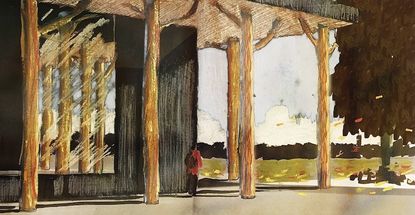 (Image credit: KIMMO RAISANEN)
Located at Töölönlahti Bay, Pikku-Finlandia ('Little Finlandia') sits at the heart of Helsinki's Töölönlahti park. Developed along the southern shoreline, the park is a cultural oasis, home to the Finnish capital's winter garden and main opera house. Here, the new building is set to act as a temporary replacement for the famous Finlandia Hall by Finnish modernist architecture master Alvar Aalto, which is undergoing renovation. Demountable and built of wood, including whole tree trunks fully on show, it is an impressive piece of sustainable architecture; yet perhaps the most amazing thing about it is that Pikku-Finlandia was born as a bold student thesis.
In 2019, architecture students Jaakko Torvinen, Elli Wendelin and Havu Järvelä submitted a student competition entry at the Aalto University's School of Arts, Design and Architecture for a transportable wooden building to serve as an event and restaurant space that would temporarily replace Finlandia Hall while it was being restored. Their project was announced the winner and is now realised as Pikku-Finlandia. The building follows a rectangular, modular grid made of unprocessed pine, its branches still visible. The long side of the building exposes a sequence of structural pine columns, creating a feeling of being on the 'edge of a forest'. As Europe's most richly forested country, Finland is covered by predominantly coniferous species, including Scots pine, that span some 75 per cent of its land (almost 20 million hectares).
The 2,300 sq m multipurpose building has a capacity of 1000 people and consists of a single floor hosting a café, four halls and a cabinet. The design is flexible and modular, and the halls can be connected to form larger spaces for events and catering as needed. One of the four halls, Kelo Hall opens to a bright lobby, its long glass façade highlighting views from inside towards the landscape of Töölönlahti bay.
Wendelin and Torvinen collaborated on their thesis, and titled it 'From Finlandia Forest to Pikku-Finlandia – design for a transportable wooden building'. Wendelin focused on the carbon footprint of the building, as a transportable structure, and the lifecycle of the pine wood. Torvinen researched efficient and accessible ways of disassembling the structure in future through principles of reverse building design. The team, alongside their professor Pekka Heikkinen, handpicked 95 pine trunks from the southern boreal forest in Loviisa, and used a pressure washer to peel the bark and preserve the organic shape and finish of the pine.
Initially created by Torvinen, the design concept was further developed alongside fellow students Wendelin, Havu Järvelä and Stine Pedersen. After the concept was chosen to be realised, members of the team continued working on the design in collaboration with Helsinki-based architecture firm Arkkitehdit NRT Oy, and Heikkinen.
Pikku-Finlandia can, and will, be transported to a new location once the renovations in Finlandia Hall are completed by 2025. The striking, yet relatively modest piece of eco-friendly architecture is designed to be dismantled, rebuilt, repurposed and eventually recycled. As a multipurpose space, it can be used as an educational venue, for example, visiting other parts of Helsinki or Finland in the next 30 years, which is its estimated life span.
INFORMATION
jaakkotorvinen.com (opens in new tab)