Herzog & de Meuron's art-filled Kramlich Residence in focus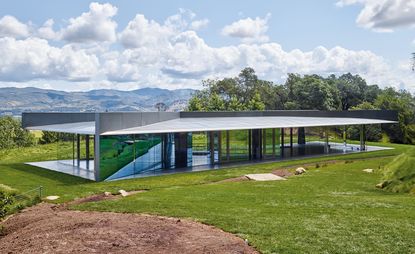 (Image credit: Marion Brenner)
Like the many surrounding wineries, Pamela and Richard Kramlich's new home in Napa Valley, California, also has a cellar. But rather than stone or brick walls encasing barrels of aging grape juice, their's is an underworld designed by famed Swiss architects Herzog & de Meuron. The concrete cellar has been designed to house their renowned collection of time-based media art, which includes works by artists such as Nam June Paik, Matthew Barney, Joan Jonas and Marina Abramovic, among many others. Above this subterranean level are two further stories: a semi-private living area and an all-glass pavilion.

In the pavilion, it's like 'you're living inside but you're outside…you're just caressed by the landscape', says Pamela in The Kramlich Residence and Collection, a monograph published this month by Hatje Cantz that chronicles the development of the architectural project.

Pamela and Richard first met Jacques Herzog and Pierre de Meuron in 1997 over dinner at the home of two friends, who had commissioned the architects to construct the nearby Dominus Winery. The Kramlichs explained their desire to build a new home in which one could both live and exhibit artwork, and Herzog & de Meuron were struck by the creative possibilities. Conversations continued, concurrent to the architects' work on what is now their most well-known project – the Tate Modern. Although the Tate Modern also began in 1997, it was finished in 2000; meanwhile, the Kramlich Residence and Collection, known as 'Project 158', was only completed in 2015. Over its nearly 20 year development, the structure evolved alongside technology and the way art is exhibited.
The first two designs were variations of rectangular courtyard floorplans, each with a freestanding cube to provide additional exhibition space. But the final building is one complete structure that merges art with daily life, with a central spiral staircase that intersects the glass pavilion above and the gallery level below.

Below ground, a cinema, replete with vintage Carlo Mollino seating, screens Christian Marclay's Lids and Straws (2016). Visitors (scholars, curators and other invited guests) activate many of the media works with the touch of an iPad – something that was unthinkable in November 1997, when the first drawings were made. 'The original project was "a dinosaur"', Herzog recalls in the book. 'It was designed anticipating the future, but the future needed to happen'.

Now that the future has apparently happened, the Kramlichs have a space where their collection will be installed in informal, rotating exhibitions that will, they suspect, push the boundaries of the way art can be experienced. Finding inspiration in Dan Graham's use of bisected mirrored triangles, 'Project 158' fuses the idea of transparency with translucency – combining views of the natural world with reflected reproductions, and art with living. No matter of one's position in the house, 'the art', Herzog notes, 'is always with you'.
INFORMATION
For more information visit the Hatje Cantz website (opens in new tab) and the Herzog & de Meuron website (opens in new tab)