Visit SC Johnson's Frank Lloyd Wright-designed HQ in Racine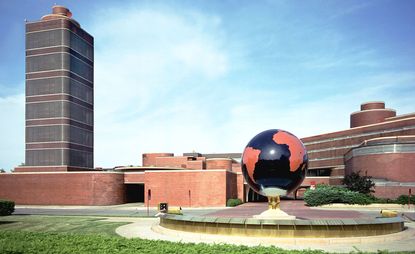 (Image credit: TBC)
One of the wonderful things about the recently-opened Chicago Architecture Biennial (opens in new tab) is that it encourages visitors to leave the exhibition itself. From films to lectures to public kiosks, it's truly a regional event.

By far the furthest afield of these offerings - and definitely one of the most memorable - are the free trips to visit the legendary Frank Lloyd Wright-designed headquarters of SC Johnson in Racine (opens in new tab), Wisconsin. The complex is about an hour and a half drive from Chicago.

Long before Apple and Google hired Norman Foster and Bjarke Ingels to build sexy campuses in Silicon Valley, H.F. Johnson Jr. hired Wright to build his Administration Building (1939) and Research Tower (1950), which remain two of the most innovative, and important office buildings in the history of modern architecture. 'I wanted to build the best office building in the world, and the only way to do that was to get the greatest architect in the world,' Johnson explained at the time.

The Research Tower, renovated in 2013, was opened to the public for the first time last year. Its 15 floors all cantilever off a central core, which extends more than 50 feet into the ground. The research spaces are skinned with 'Cherokee Red' bricks, and more than 7,000 Pyrex glass tubes. The development site of ubiquitous products like Glade, Pledge, and Raid, the tower contains original lab equipment, amazing architectural drawings, and correspondence between Wright and Johnson.

The curvaceous, horizontally-oriented Administration Building, also naturally lit with Pyrex glass tubing, is famous for its Great Workroom's amazing 'mushroom' columns, with their 9 inch diameter bases and 18.5 foot diameter tops. Wright convinced authorities to allow the unusual structures by stacking several tons of sandbags on top of them prior to construction. He (or course) designed all the furniture in the building (including the tippy three legged chairs), as well as its brass 'bird cage' elevators. It's the only working Frank Lloyd Wright office in the world.

Speaking of Norman Foster (opens in new tab), on the tour you'll visit his Fortaleza Hall, which opened in 2010. The building includes a sweeping glass atrium containing exhibits about the building and company, and The Commons, (fronted by a Patrick Blanc green wall) which provides employee amenities. The tour also takes visitors to Wingspread, the Wright-designed, pinwheel-planned home for H.F. Johnson Jr., and to the spaceship-like Golden Rondelle Theater (not designed by Wright), which was shipped to Racine after the 1964 New York World's Fair.

On display at the SC Johnson Gallery is the Wasmuth Portfolio, which features almost 50 gorgeous lithographs and artifacts from Wright's most famous book. SC Johnson is also hosting three lectures and two films associated with the Biennial as well as its first-ever 'Wright at Night' tours on Thursdays.