Pretoria's Javett Arts Centre takes its cues from the local culture and landscape
The University of Pretoria in South Africa gets new art centre, Javett UP, courtesy of Matthews + Associates Architects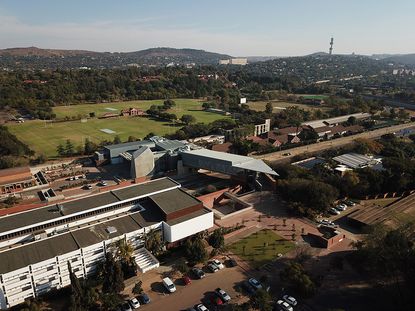 (Image credit: Matthews & Associates, Alet Pretorius, Javett Foundation)
As creative rivalries go, the contest between Cape Town and two geographically proximate northern cities, Johannesburg and Pretoria, probably constitutes a footnote in any primer on global design. Still, local history does matter in appreciating the Javett Arts Centre at the University of Pretoria (Javett UP), a 4500 sq m art museum in South Africa's socially dour but architecturally daring administrative capital.
While not explicitly pitched as such, Javett UP reads as a northern riposte to two attention-grabbing private art museums in Cape Town: the Thomas Heatherwick-designed Zeitz MOCAA and Norval Foundation by dhk Architects. Designed by Pieter J. Mathews, of local practice Mathews + Associates Architects, Javett UP straddles a busy arterial road slicing through a university known for its boldly modernist architecture.
Highlights include two fine examples of Pretoria Regionalism: Karel Jooste's Aula and Brian Sandrock's Musaion and Amphitheatre complex, Brazilian-inspired arts buildings from 1958. Like Jooste and Sandrock, Mathews is also a graduate of the University of Pretoria. 'I am very aware of the heritage and history of the campus, but I am not daunted by it,' says Mathews, whose previous projects include a steel-framed sports pavilion with a dramatically extending roof for a nearby girls' high school. This is the architect's first museum project.
Javett UP is a synthesis of two basic forms (a bridge and mountain) and three materials (off-shutter concrete, brick and steel). The faceted concrete mound at the entrance is loosely modelled on Mapungubwe, a hill inhabited by a pre-colonial trading civilisation in northern South Africa. This vault-like structure houses both the Mapungubwe Gold Collection and Barbier-Mueller Collection, a sublime assembly of West African gold pieces.
The public displays are spread across three floors, with additional mezzanine areas easing the hike up seven metres of stairs to the enclosed Bridge Gallery. Interior balconies serve as orientation devices and a large window on the museum's southern facade overlooks a boys' school where pioneering artist Walter Battiss once taught. The patterned concrete screens on the western façade are climate-responsive additions intended to absorb afternoon heat. Their randomised patterns are an abstraction of three forms (circle, diamond and cross) used on a popular indigo-dyed cloth known as Shweshwe.
Mathews says his design honours the 'spirit and honesty of brutalist construction methods,' and also prefers to link its form to a nonpartisan tradition of brutalist architecture in South Africa. His next project is an architectural pavilion for the inaugural Stellenbosch Triennale, which opens in February 2020.
INFORMATION
Sean O'Toole is writer, editor and curator based in Cape Town. He has published two books, most recently a 2021 monograph on the expressionist painter Irma Stern, as well as edited three volumes of cultural essays, including 'The Journey: New Positions on African Photography', which received a New York Times critics' pick for Best Art Books 2021. His exhibition projects include 'Photo book! Photo-book! Photobook!' at A4 Arts Foundation, Cape Town.