Balancing act: a modernist tree-house in Prague by Jan Šépka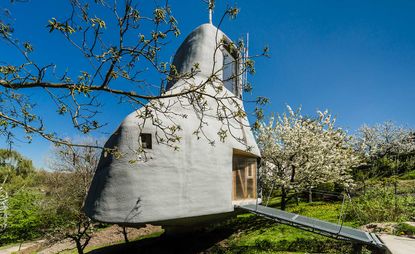 (Image credit: Jan Malý)
Built on the outskirts of Prague, Jan Šépka's House in the Orchard looks like a hybrid of John Lautner's famous Chemosphere house in Los Angeles and Antti Lovag's Palais Bulles in southern France. But the true idea of the house is much humbler than the architecture of these glamorous icons of modernism.

House in the Orchard is the latest residential project by Šépka, a Czech architect and co-founder of the internationally-acclaimed studio HŠH. Celebrated for its unconventional living concepts, the studio has built several experimental private residences around the Czech Republic. Now, Šépka continues with this original approach to personal living space.

Designed for an old friend, the house is situated in a beautiful natural garden surrounded by trees. The steep site inspired Šépka to build a house elevated on a single concrete pillar. 'Maybe it looks like a whimsical decision, but this solution actually saved a big amount of our budget. Considering the difficult conditions, a classical foundation would be more demanding financially, Šépka explains of his structural solution.
The house's organic structure is also the result of a practical construction idea. 'Before the implementation, the beams were precisely cut on a 3D milling machine and the construction was merely assembled like a construction set on-site,' says Šépka. The irregular shape is divided into triangular spaces, which assure the stability of the wooden build and also allowed the placement of birch plywood boards. 'The shape is simply the result of the structural decision and was modelled by computer,' adds the architect.

The three-storey structure has a living area of 80 sq m and is covered in plywood sheets, which were then sprayed with a layer of polyurethane and covered with a grey, waterproof skin, resembling concrete or natural rock. Inside, the first floor is dominated by the main living space, opened via expanding windows with views of the beautiful natural surroundings on the north side. Ladder-like steps lead to the second and third floors with the bedrooms, bathroom and study on the top floor. The large skylight window in the study lights the open interior from the south through all stories. Šépka also designed custom-built plywood furniture for the interior.
INFORMATION
For more information, visit the Šépka Architects website (opens in new tab)