Photographer James Brittain gets under the skin of Moshe Safdie's Habitat 67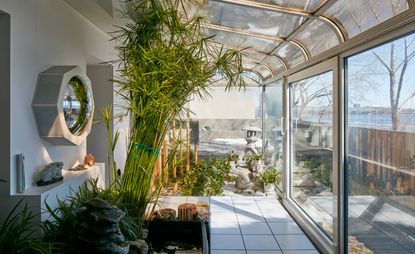 (Image credit: James Brittain)
Does architectural photography always need to look so pristine? One practitioner is not so sure.

James Brittain, whose day job is shooting newly-completed buildings for architects, has this time turned his lens towards a structure that is more than half a century old. Habitat 67 in Montreal – that iconic housing complex which its architect Moshe Safdie has arguably never bettered – is Brittain's subject, and forms the material for his exhibition, 'Revisited: Habitat 67'.
Exterior view of Moshe Safdie's modular housing complex named Habitat 67 in Montreal.
'I visited the complex almost immediately on arriving in Montreal,' explains Brittain, who moved to the Canadian city eight years ago from London. In this year-long personal project, he has been using Habitat 67 to think about architectural photography.

'We can feel overwhelmed by the tsunami of clean and clinical mainstream photography of contemporary architecture,' he suggests. Safdie's masterpiece, in contrast, is ageing and its occupiers are constantly adapting the use of its private and public spaces.

This personal project is 'to do with trying to get under the skin of the place, to show that it has life, history and is evolving,' he adds.
Circulation between dwellings at Habitat 67.
That means that in some of Brittain's 12 large-format colour photos, the concrete's inevitable wear and tear is on show, and the bin man is going about his business. In one interiors shot – shock, horror – a couple of stains on a cream lampshade haven't been air-brushed out. In another, the view out of the window is partially obstructed by a pile of unironed shirts.

This dozen sit alongside nine black and white archival photos, highlighting Brittain's thinking about the relationship between archive and contemporary photography.

Revisited: Habitat 67 marks the relaunch of Building on the Built, a lecture programme exploring ideas around architecture and existing buildings. Both the programme and show, which is open to the public for two weekends in February, are hosted by Jonathan Tuckey Design in the firm's West London studio.
INFORMATION
'Revisited: Habitat 67' is on view for two weekend in February. For more information, see the Jonathan Tuckey Design website (opens in new tab)
ADDRESS
Jonathan Tuckey Design
58 Milson Road
London
W14 0LB
VIEW GOOGLE MAPS (opens in new tab)