Istanbul Modern: where art and the Bosporus meet
Istanbul Modern by Renzo Piano Building Workshop, the Turkish capital's newest cultural draw, throws open its doors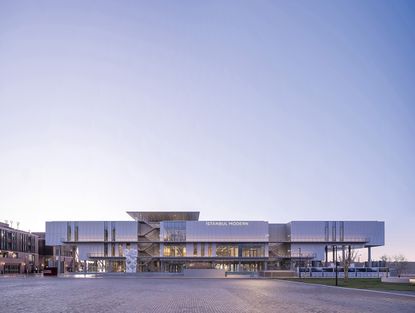 (Image credit: Cemal Emden)
The Istanbul Modern, founded in 2004, returns to its original location on the historic Karaköy waterfront on the European side of the Bosporus, in a striking new contemporary architectural statement in glass, concrete and steel by Italian architect Renzo Piano and his studio. The new museum, designed to house modern and contemporary works of art from 1945 to the present, marks the final stage of Galataport, an ambitious urban renewal project that has seen a strip of the once inaccessible waterfront of warehouses and government buildings transformed into a cultural hub of Turkish and international boutiques, and luxury department stores such as Beymen and Gizia, along with chic restaurants, bars and offices.
Istanbul Modern by Renzo Piano Building Workshop
Piano is no stranger to melding heritage and innovation, and Istanbul Modern sits comfortably between the newly created public waterfront promenade that leads from The Peninsula Istanbul near Galata Bridge on one side, past the museum to shops and restaurants on the other, and to nearby Clock Tower Square. Here, historic landmarks abound, including the Tophane Clock Tower, Fountain and Pavilion, the Mimar Sinan Kılıç Ali Paşa Complex, and Nusretiye Mosque, as well as the Mimar Sinan Fine Arts University Museum of Painting and Sculpture.
Renzo Piano Building Workshop's sensitive response to the location is an engaging façade, where art and activities – and the Bosporus - are visible from indoors and out. A cavernous basement set aside for car and coach parking, deliveries and all other building services, keeps the surrounding area free from clutter, and the ground floor is wrapped in transparent windows with entrances from both the waterfront and the plaza towards the city. The rest of the building is clad in 3D-formed aluminium panels that evoke a ship, and as any ocean-going traveller knows, the most spectacular views are from the interior.
The studio's expertise lies in crafting spaces for art that function as well as they look. The ground floor of the simple 10,500 sq m geometric building feels especially welcoming. There are sculptures outdoors and inside there is a library, which is open to the public free of charge. There are also education and event spaces, a café, and an unusually large shop with interesting and original items by Turkish artists and designers. The wide central staircase Piano has designed to appear to float is a clever construction of high-performance cast concrete steps with glass balustrades, suspended by steel rods.
At the time of opening, the staircase features Your Unexpected Journey (2021), a three-part, site-specific installation by Olafur Eliasson, which highlights the sense of being immersed in space. However, architectural enthusiasts should first head to the inaugural exhibition that focuses on the building's design and construction, with models and a display of exceptional images taken throughout by architectural photographer Cemal Emden.
In addition to spacious, stylish staff offices furnished with Vitra pieces, the first floor contains several galleries and a dedicated space for pop-ups, and a restaurant with panoramic Bosporus views from an outdoor terrace. One floor above, is a gallery that is dedicated to the museum's permanent collection of contemporary art from Turkey and beyond.
The museum appears simple, yet is sophisticated, eschewing decoration for finesse in the detailing. There are super-slim columns that provide maximum flexibility for showing art; ultra-clear glass supplied by Saint-Gobain Glass; a sea of photovoltaic panels; and perfectly precise detailing of symmetrical joints and light tracks. Not to mention a special state-of-the-art bracing system to accommodate the highest level of seismic activity, which can be experienced in the region.
However, the pièce de résistance is the simple and inspired rooftop, where Piano has installed a shallow infinity pond perfectly reflecting the bustling Bosporus and the steep hillside of Beyoğlu. This vista, complete with the iconic Galata Tower built by the Genoese in 1348-49, proves that in Istanbul, heritage and innovation always go best hand-in-hand.
'Since our doors opened in 2004, Istanbul Modern has played a pivotal role in the cultural and artistic life of Istanbul. Showcasing Turkey's artistic heritage, creativity, and dynamism, the museum quickly became an important cultural destination for people across the city, and from around the world, staging major exhibitions of modern and contemporary art from Turkey and beyond, alongside a vibrant public program. With the momentum provided by this new, world-class building designed by Renzo Piano Building Workshop, we aim to strengthen Istanbul Modern's position among the global leading centers of art,' says Oya Eczacıbaşı, Chair of Istanbul Modern.