The Morning Line sonic temple, Istanbul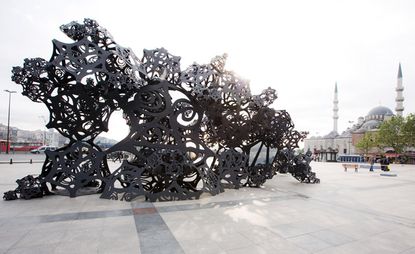 (Image credit: Jakob Polacsek, T-B A21 2010)
As I stood in Eminönü Square, Istanbul, experiencing what might only be described as an experiment in sound, art and architecture, I was approached by a rather trepidacious Turkish teenager. "What's going on?" he enquired. "It's a sound installation," I replied. "I don't know what that is," he answered, obviously puzzled. "But it's not love is it?" And certainly for that moment in time it was not as, sitting behind a MacBook, was Aphex Twin collaborator and eminent sonic artist Russell Haswell, playing a sound poem by Yasunao Tone, entitled Paramedia, that sounded like a million arcade computer games at war.
The occasion was the launch of a sonic temple christened The Morning Line that was created by artist Matthew Ritchie, in collaboration with award winning architect, Ben Aranda, and Arup AGU. The launch was held over five days and featured a series of exciting new works by some of the world's greatest sonic artists. A formidable, almost foreboding Gothic-like construction, The Morning Line is basically an eight-metre high, 20m long, perforated coated aluminium modular tent weighing in at 17 tons, that can be dismantled and transported over borders and re-assembled in a variety of new shapes - almost like a box of Lego.
No ordinary construction, the structure comprises 40 speakers within its confines and uses an interactive ambi-sonic sound system (made by the Music Research Centre Of York University) that serves to broadcast said 'music' in the shadow of the Yeni Cami Mosque, next to the Spice Bazaar and overlooking the Bosphorous.
The whole shooting match has been put together and sponsored by, Francesca von Habsburg, international patron of the arts, heir to the Thyssen Bornemisza Collection and founder of TBA 21 contemporary arts foundation, along with Turkey's Vehbi Koç Foundation.
A rather spectacular event, its curated by Haswell, who chose the 16 individual works to be broadcast on an irregular basis in between prayers until September 19th. Amongst the works are a soothing electronic classical opus, Bridges from Somewhere, by Peter Zinovieff (who in the 1960s invented the VCS3 synthesizer so popular amongst the likes of Kraftwerk, Pink Floyd and David Bowie) and composer Carl Michael von Hausswolff's, No Rest Even for the Static Matter, that employs sine waves voiced into 40 different compositions - one for each speaker - all to be played simultaneously.
A quite dazzling array of talent, amongst the other works are: Maelstrom by Lee Ranaldo - co-founder of Sonic Youth; Cannibal in Tuxedo, by Icelandic duo, Ghostigital (Einar Örn of The Sugarcubes and Curver the Sigur Ros remixer); Timeless Wave by Erdem Helvacıoğlu; and Snaefellsnes by Cabaret Voltaire founder Chris Wilson.
Indeed, the event fields the full disparity of modern sonic art - some pieces almost lull one to sleep, others create an inner turmoil - but all are created to provoke an emotional effect and all within the confines of a rather radical piece of architectural art that sits in a very important heritage site.
"The location of these pavilions are as important as the pavilions themselves and here we are with this very contemporary construction and concept in the middle of this very historical square casting a calligraphic shadow over the Bosphorous." explains Francesca von Habsburg.
"This was a chance to do something on a large scale and experiment with the relationship between sound and architecture. I hate compromise and this was the opportunity not to do so."