Minimalist interiors revive this neglected Islington home
Period Islington house receives a modern overhaul and minimalist interiors by Edwards Rensen Architects, bringing it into the 21st century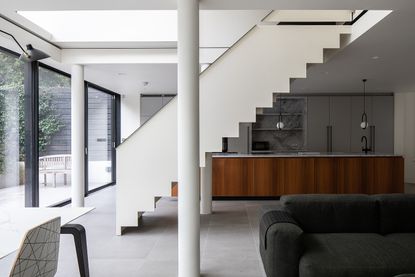 (Image credit: Adelina Iliev)
Two years ago this terrace in Islington was a neglected four-storey building with the ground-floor living spaces made up of small, cellular rooms. And although the dilapidated Victorian house would require a host of interventions and a clear design vision, the double-aspect rooms, unusually large windows and the wide, west-facing garden immediately sold it to the current owners. They enlisted local architects Edwards Rensen to help them reorganise the internal spaces and transform the ground floor, creating sleek, minimalist interiors with a large open plan kitchen-living-dining area at their heart. This calming space connects directly to a lush, tropical garden space outside.

Key improvements have been made to the thermal efficiency of the house by upgrading all the single-glazed sash windows to double-glazed, enhancing its sustainability credentials. For further comfort, work was undertaken to insulate the ground floor and the roof. Energy efficiency also includes the installation of new low-energy lighting throughout, and a boiler system that responds to changes in outside temperature and significantly reduces gas consumption.
Aesthetics were important in creating the right atmosphere, so a clean overall look and predominantly monochromatic surfaces were promoted throughout. The large-format tiles in the lower-ground floor were chosen not only for their beauty, but their non-slip quality and compatibility with the underfloor heating. The round columns provide structural support, but also help to divide zones, while a wall of glazed sliding panels provides the all-important link to the outdoor urban jungle.

The design of the new stairway accommodates a fire curtain, which slices through it to protect the main stair on the upper-ground floor – the escape route for all rooms above it. If any of the smoke alarms around the house, or the heat alarm in the kitchen, goes off, the fire curtain slides across the stair opening, closing the lower-ground floor off from the rest of the house.

The pared-down aesthetic of these minimalist interiors is cleverly matched with sustainable and smart interventions throughout, making this home a perfect balance of looks and functionality.
INFORMATION
edwards-rensen-architects.co.uk