To market, to market: the Irish Pavilion pitches up in Venice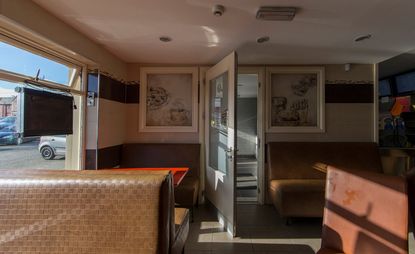 (Image credit: Paul Tierney)
At the 16th Venice Architecture Biennale (opens in new tab), Ireland will use its pavilion to look closely at the country. Not at Dublin, where a growing tech hub hosts the headquarters of Google, Facebook and Twitter, and not at its national state recently thrust into headlines and conversations across the UK in the face of Brexit. Instead, the pavilion has set up shop in the market squares of declining rural towns taking a refreshingly useful and non-conceptual approach to a problem, and putting in the work to find out how it might be solved.

Titled 'Free market', in response to 'Freespace' the main theme chosen by Yvonne Farrell and Shelley McNamara of Grafton Architects (opens in new tab), the Irish Pavilion (opens in new tab) explores the typology of the market square through ten case-study towns across Ireland. Once a place for exchange and congregation, the market square has fallen into a period of decline due to the changing economy, the influx of cars, supermarket life and technological isolation.

Without critique, the exhibition charts historic data, documents contemporary life with photography and gets out onto the streets recording sounds and talking to people to build unique portraits of each town.
The exhibition is driven by a collective of six curators – five from Ireland and one from the Netherlands – who banded together across common interests in urban life, design and research. They all knew each other somehow through different networks and connections: Laurence Lord and Orla Murphy teach together at the School of Architecture, Planning and Environmental Policy in University College Dublin. Lord also works with Tara Kennedy and Jeffrey Bolhuis at the Cork Centre for Architectural Education. Kennedy is a co-founder with Jo Anne Butler at Culturstruction, their collaborative architecture and design practice – and Miriam Delaney lectures at the Dublin School of Architecture, Dublin Institute of Technology, is connected in another way and seems to know everyone, somehow.

While the down-to-earth group bonded over common ground, they are each located in different parts of Ireland – which allowed the exhibition to gain its wide, yet detailed reach across the country. Instead of a 'too many cooks moment', it seems that group-thinking, breadth of skills and intellectual manpower has proved a productive combination.

The curators want to bring the experience of the Irish market place to Venice. It's a post-modern idea that, in the midst of a Biennale buzzing with sustainable models and utopian ideals brings the international audience back down to reality, to the architecture and design that effects a majority on a daily basis – one in three people in Ireland live in a town after all. In terms of the UK and Brexit, architects and thinkers focussing on small town communities and rural problems is exactly what we need, perhaps other European countries can relate and avoid a similar crisis.
'Free market' aims to capture the sensation of being in a market square in Ireland, all inspired by the work of fiction writers, artists, poets and playwrights, the people who have lived and experienced life there and three commissioned soundscapes will be broadcast over the Free Market Radio.

Yet, the pavilion isn't without future vision. The exhibition positions the market place as a site full of potential, a place of social, political and cultural exchange, central to community cohesion. Proposals for the spaces drawn up by designers and planners, as well as ideas from theorists, critics, policy makers, architects and planners will all meet at the pavilion. A free copy of the Free Market News brings together nearly 40 contributors who lay down ideas into print and bring in wider debates.

On the pavilion's return to Ireland, the exhibition will journey back from whence it came, to market. It will set up in new formations with a temporary structure that will redesign itself in each context, continuing to grow, gathering and developing its breadth, experience and knowledge.

See all the latest news and stories from Venice Architecture Biennale here
INFORMATION
For more information, visit the Irish pavilion at Venice Architecture Biennale (opens in new tab) Free market website (opens in new tab)