Perfect pavilion: Casa Graciela lets the Mexican nature in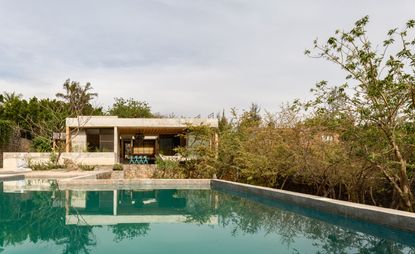 (Image credit: Rafael Gamo)
When designing Casa Graciela, a weekender in the popular vacation area of Santiago Tepetlapa, Mexican architects Jorge Ambrosi and Gabriela Etchegaray had a number of environmentally-focused goals. The Ambrosi Etchegaray founders wanted to establish an uninterrupted relationship between built environment and place, and to optimise the found terrain, as well as the outdoor lifestyle, which can be enjoyed all year round in this consistently mild area.

To achieve this they broke up structural elements, such as terraces, stonewalls and concrete slabs, submerged outdoor platforms in the landscape, and allowed nature to weave in and out of the various architectural spaces. A large terrace was also constructed at the property's highest, rear, point to best appreciate views.
Take an interactive tour of GP House
Structures were built by local people from stone, adobe block, timber, marble and concrete, which were all sourced in the region. These raw, simple materials were chosen to emulate the materiality of the local architecture, and for the fact that they will increasingly blend into their setting with age.

As so often happens in life, the biggest project challenge came from the thing that initially attracted. This remote and ruggedly beautiful setting lacked full utility infrastructure - in particular, the site had no available potable water or close power main. In the end, Ambrosi and Etchegaray found solutions to these challenges, which were not only practical, but greatly enhanced Casa Graciela's aesthetic and atmosphere.

In addition to installing cisterns for potable water collection, rainwater needed to be gathered for passive irrigation of planned landscaping. The latter challenge ultimately inspired a sequence of striking, water elements, including a gravity-fed water channel, which falls from the property's highest point - through contemplative ponds and a lap pool - to the cultivated gardens on the property's lower levels. These serve to reduce the local high and dry temperatures while creating a cool and contemplative environment, which is enhanced by the omnipresent sound of moving water.

Casa Graciela's open pavillion faces a horizon of jagged mountains and its dispersed structures and ponds hug the undulating terrain to finally create a home with beautifully blurred lines between inside and out.
INFORMATION
For more information on the architects visit the Ambrosi Etchegaray website (opens in new tab)
Photography: Rafael Gamo