Interactive floor plan: Lagar do Marmelo, Portugal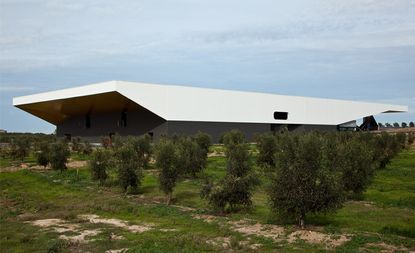 (Image credit: TBC)
Lagar do Marmelo is a recently completed olive-crushing facility by Ricardo Bak Gordon (opens in new tab), the architect who is least obviously representative of the 'Portuguese aesthetic', of those who formed the delegation to the 2010 Venice Biennale. It is the latest addition to the growing array of meaningful contemporary architecture clustered in the up-and-coming bucolic Alentejo region, tucked between Lisbon and the notorious Algarve.
The facility is also the most recent chapter - and the first major architectural statement - in the freshly invigorated Portuguese olive oil sector, following on the heels of Michael Young (opens in new tab) and Base Design's (opens in new tab) packaging for the re-launch of the Herdeiros Passanha (opens in new tab) labels in 2008. This followed the rise of a handful of traditional estate owners turned small-scale producers of high-end olive oil in distinctive groomed packaging reminiscent of the wine sector, still worming their elitist way below the radar.
Billed as a state-of-the-art mill with a green streak, Lagar do Marmelo is something of a marketing coup for Portuguese food group Sovena (opens in new tab), which boasts a second-place position in global olive oil production and also lays claim to owning the largest olive tree field on the planet in 2010. Bak Gardon's design is a charming take on fanciful industrial exuberance, designed to be read as a strong statement from a distance but, countering first impressions, becoming more interesting as one approaches.
Featuring Bak Gordon's typically fair proportions, the facility goes a step further with the architect's ongoing exploration of twin finishes to divide building facades horizontally - in Lagar do Marmelo he uses different materials. The construction is laterally severed just below the middle of the façade, with a white top finished in cement boards sitting above a prefabricated concrete base. Set on a strip of the site that was dug into the ground, Bak Gordon's intention is that the dark grey base blurs with it so that the white top appears to hover over the surrounding olive trees.
The uneven covers that wrap up the contrasting longitudinal ends of the building are coated with - inevitably - olive oil-coloured alveolar polycarbonate. At night, these are illuminated from within to create a particularly dashing result on the more closed faceted side and a neat trim to the juxtaposed frank industrial façade.
Inside, Bak Gordon's usual playfulness with colours goes space age with an electric green corridor running through the administrative area on the top floor of the two-storied building-within-the-building that separates production and storage areas. Overlooking both, a tasting-room and gallery takes up the remainder of the floor, accessed through an equally seemingly misplaced but also enticing staircase of 1960's era-aesthetic.