We step inside a renovated unit in Mies van der Rohe's iconic 860-880 Lake Shore Drive in Chicago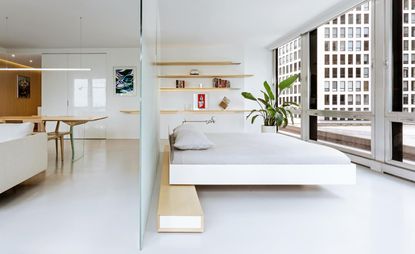 (Image credit: Bill Zbaren)
To seamlessly merge new contemporary interiors with the older shell of an architecture classic, requires skill and a context-sensitive touch. Found within Mies van der Rohe's iconic 860-880 Lake Shore Drive in Chicago, this apartment is a prime example of such an approach, overseen by Vladimir Radutny and Fanny Hothan of Vladimir Radutny Architects. The 750 sq ft Unit3E has just received a modern makeover, courtesy of Radutny, who saught to pay homage to the timeless structure and its lakeside location through his design.
The Lake Shore Drive buildings, designed by Mies van der Rohe, were erected between 1949-1951, and form a set of the American city's most well known architectural landmarks. This pair of towers helped redefine high rise living for post-war inner city Chicago.
Situated on one of the lower floors of this 26 level tower, the apartment in question offers clean, unobstructed views of the nearby Lake Michigan. Maintaining this view, while being respectful the Mies van der Rohe's original design, was one of the architect's key concerns during this residential rehaul. In order to open up the space to the vistas, the architect chose to completely gut the interior. He opted to work with a fairly open plan living scenario, placing just a frosted glass pane to separate the living and sleeping areas. His changes were inspired by a set of original Mies van der Rohe's plans for the building, which were never implemented.
Radutny wanted to complement the building's external envelope with his choice of materials, so the interior was themed around an austere and neutral colourway with highlights in white oak. The pallette includes light colours and lots of transparency, while the furniture was planned to appear almost levitating.
The architect's overall aim was to guide the inhabitant's eyes past the apartment itself, and out towards the horizon and surrounding scenery. 'In a way our intent was to create a backdrop for the existing exterior condition', says Radutny. 'It's a truly open living space that absorbs its city context'.
INFORMATION
For more information, visit Vladimir Radutny Architects' website
Photography: Bill Zbaren