Hong Kong residence by Cream elevates Victoria Peak living
Luxury living reaches new heights at this Hong Kong residence by Cream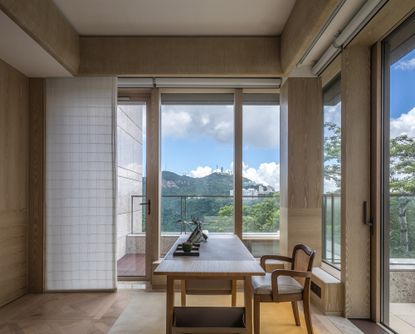 (Image credit: Edmon Leong)
Not only is Victoria Peak the highest point in Hong Kong, but it has also long epitomised luxury on the island. The location of architect Antony Chan's newest project, it is close to the city (the Peak Tram delivers passengers from Central in just eight minutes) yet offers rare verdant views. Chan's Hong Kong-based interior architecture studio Cream capitalised on this contrast when it transformed the interior of an existing 2014, four-storey detached house within a covetable private residential enclave using a fresh vision of contemporary living embracing textured finishes and objets d'art. The goal, says Chan, was to create a relaxed and informal home in harmony with its sub-tropical setting.
Chan is known locally as the go-to architect for nuanced, thoughtful, upmarket interiors. His projects are notable for their subtle glamour, achieved through a meticulous layering of patina, character and complexity, their sophisticated use of colour, and their sprinkle of bespoke furniture designs, as well as original art and interiors pieces, often sourced in Paris.
But this 446 sq m home, commissioned by a local developer, is much more than a mix of extraordinary surfaces and items. Here, Chan also brings architectural rigour, re-engineering each floor to create a natural flow that responds to its site. 'We wanted to make sure that all elements were practical for a family,' he says.
Hong Kong residence by Cream
The entrance hall on the lower ground floor sets the scene with a subtle arrangement of warm stone and light oak walls, which reach up to the full extent of the high ceilings. 'The grain of the wood is as important as the colour,' Chan says. He added here a Christian Liaigre 'Touareg' bench, not only for its pure minimalist form, but also because it provides a practical perch for changing shoes. This, and a brushed bronze pendant by Hervé Van der Straeten, are dramatically juxtaposed with a sinuous lattice bronze balustrade, which winds up to the main living space on the ground floor, where the kitchen and dining areas are also located.
On this floor – an open-plan space looking towards striking vistas – the natural materials of Chan's custom-made details, from handles ('We create bespoke door handles as a signature touch for each home we design,' he explains) to doors and staircases, are certainly a highlight. They are complemented by a richly textured material palette, including Quartzite Naica floors. Artworks, such as a minimalist sculpture by Angelo Mangiarotti and a large abstract bronze by Dan Schneiger, subtly help to carve out the different areas. In the living room, low-slung seating and an enormous coffee table by Promemoria are strategically placed to frame the mesmerising views. The living room leads on to a spacious 267 sq m garden, a rarity in Hong Kong, where Chan has added a sculptural bonsai tree and a dining area. A pool is lined with tiles in six different shades of green, arranged in an organic pattern that helps blur the boundaries between pool, garden and the trees beyond.
Back inside, in the living room, floor-to-ceiling windows are offset by four distinctive custom-made sliding screens combining bronze in different finishes with timber and onyx. They light up to create a soft glow at night. Upstairs, there is a light-filled informal living room surrounded by three bedrooms, including one paying homage to Japanese interiors, with a futon on a raised timber platform and shoji-like blinds. Chan designed the main bedroom and study on the top level as a serene sanctuary
with an idiosyncratic selection of contemporary creations. Standout pieces include a delicate hand-embroidered silk panel reminiscent of a Japanese kimono above the bed, a coffee table by Draga & Aurel, and a dressmaker's model in a grey tutu by Comme des Garçons.
The unifying feature in this home is the volume Chan has composed, which creates a constant dialogue with its sub-tropical surroundings. The interiors merge seamlessly, enriching each corner and detail with layers, generosity of space and purpose. For the designer, these are more than just decorative details; they are an integral part of creating a mindful sense of relaxed, site-specific luxury. 'The changing expectations of luxury,' says Chan, 'are more about the quality of the design and the attention to detail. It has to be a space that is a joy to live in.' 
This article appears in the July 2023 issue of Wallpaper*, available in print, on the Wallpaper* app on Apple iOS, and to subscribers of Apple News +. Subscribe to Wallpaper* today
Receive our daily digest of inspiration, escapism and design stories from around the world direct to your inbox