Council_St is a creative community hub crafted from a Historic Filipinotown garage in LA
A garage in Historic Filipinotown is transformed into Council_St, an artist's studio and exhibition space, by LA-based architecture firm Formation Association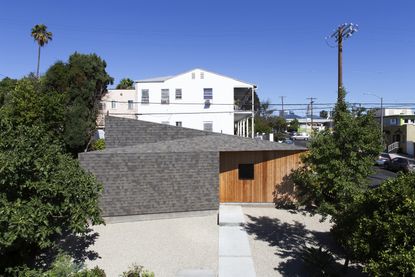 (Image credit: Janna Ireland)
Council_St in Los Angeles' Historic Filipinotown was born out of an urban transformation. The project, a design feat led by John K Chan of local architecture studio Formation Association, involved the reimagining and expansion of a 200 sq ft garage into an 815 sq ft artist studio and exhibition space. For owner and artist Kent Young, the new structure is a place to share his own practice. But it also doubles as a space to exhibit unrepresented artists, CalArts affiliates and the emerging LA art scene. It brings together personal studio and commercial gallery, in a complex called Council_St after its namesake street.
The project's multiple identities, unassuming materiality yet remarkable presence embody Formation Association's practice of 'architecture as a cultural project transforming our expectations of the built environment'.
Council_St: Historic Filipinotown vernacular craftsmanship reimagined
At first glance, the building's asphalt shingle cladding makes the new studio feel at once discreet and mysterious in the context of the surrounding neighbourhood, where countless wood-shingled homes show off their 1920s vernacular craftsmanship. Embedded within the studio's shingle wall is an operable garage door. Inside lies a private storage area for both past artwork and work in progress by the owner, when the main gallery is in use.
On rooting this project within the residential neighbourhood context, Chan explains: 'We're using the common vocabulary of everyday building materials, but speaking and communicating in a different way.'
Form, function and feeling
A chain-link gate opens onto a gravel yard between Young's (existing) residence and the new studio, guiding visitors inside. The façade's shingle cladding is interpolated with unfinished cedar wood, and punctuated by an orthogonal awning window. The perpendicularly rotated doorway, invisible from the house when shut, creates a subtle demarcation and 'psychological distance' between home and work for the artist.
The yard is formed of a loose patio featuring cast-in-place concrete pavers, as well as orange, fig and persimmon trees, and a table and garden chairs. The composition nods to LA's agrarian past, also creating a welcome sense of serenity.
There is a deliberate absence of trim or moulding between the cedar and asphalt walls, and a focus on textures and the human touch. Chan reflects: 'In modernism, there can be an emphasis on a kind of machine perfection, the erasure of the worker's hand – alternatively, we're suggesting the labourer's input in our work.'
An ode to the art shed
Inside, the door opens into a low, triangular space with a soffit ceiling that immediately rises to reveal a surprisingly generous studio space that can accommodate large-scale artwork. North-facing picture windows frame the outside sky, neighbourhood cypress trees and shingled roofs, continuing the dialogue between the interior and its wider exterior context. While the studio maintains a traditional white cube exhibition space form, Chan purposefully left a concrete kerb running along the perimeter of the interior, as a reminder that 'this was just a garage before [...] it's OK to get messy in here'.
Council_St, in its materiality and functionality, simultaneously explores themes of public and private space, homogeneity and idiosyncrasy, home and work. Throughout the space, Chan plays with the performative idea of an 'art shed', and the art of 'shedding associations of both traditional gallery spaces on one hand, and utilitarian shacks on the other'.
Nana Ama Owusu-Ansah is a writer and photographer from London. She first wrote for Wallpaper* in 2021, in a series on the new vanguard of African designers practising in Africa and its diaspora. She is drawn to projects centring on decolonial approaches to art, architecture, as well as community and sustainability. Nana Ama read Economics and Spanish at University of St Andrews, and, as an avid linguist, is passionate about using accessible language to invite new audiences to engage in design discourse.