Complex geometry: Heneghan Peng's Palestinian Museum takes its cue from a natural context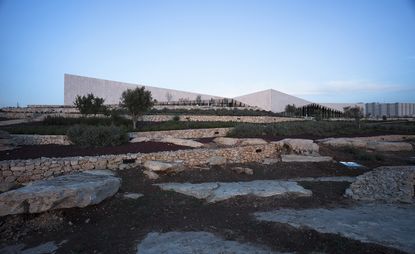 (Image credit: Heneghan Peng Architects)
The Palestinian Museum, designed by Heneghan Peng Architects, has been compared to a Bedouin tent – described as a building dancing on top of a hill and noted for its complex geometries. But for project architect Conor Sreenan, the inspiration for and execution of the museum perched on a hillside in Birzeit was 'straightforward and simple'.

'It deals with facts on the ground,' he says from his office in Dublin, 'with the topography and geography of Palestine.' The museum was inaugurated in May after two decades of planning and fundraising by the Welfare Association (an NGO backed mainly by Palestinian exiles), and three challenging years of construction. At once a hub for Palestinian culture and a connector to the larger diaspora via global satellite galleries and an extensive online archive, the museum boasts spaces for exhibitions and performance as well as research and education, all set within four hectares of planned gardens (designed with Jordanian landscape architect Lara Zureikat).

The architects chose to express the often-fraught issue of Palestinian identity by deriving form directly from the landscape. 'The design is not a glib reaction to occupation,' says Sreenan, but rather 'a response to physical context.' Working with the existing contours of the land, they created a building that emerges organically from the site. Employing construction methods used for thousands of years in Palestine, they cleared the land of stones and then used them to build retaining walls that support a series of cascading terraces tracing historical agricultural terrain.

While many institutional buildings in Palestine read like stone fortresses, this museum opens up to the land and to its people; in a place of barriers there is no perimeter wall around the site. Sweeping vistas of the West Bank and the Mediterranean beyond are a constant reminder of connection to place.

Rather than imposing itself upon the site, the long, narrow building of concrete, clad in local limestone, rests lightly upon the land. A series of zigzagging terraced gardens hug the hill that slopes from East to West, unfolding like sedimentary layers of history. Agricultural plantings including wheat and chickpeas embrace the base, while a variety of orange, almond, oak and pine trees weave their way to the top.

An eastern angular entranceway beckons museumgoers into a light filled space, with offices, a cafe and shop to the north, and exhibition area to the south. The main exhibition room is complemented by a glass gallery delineated by a subtle spatial shift that reveals the roof's geometry. It looks westward across the site and to the sea, and out into a sunken outdoor amphitheatre, offering a constant connection to the physical reality of Palestine – as well as a device for both national memory and global connections, honouring ongoing struggles while speaking to future aspirations.
INFORMATION
For more information, visit the Heneghan Peng Architects website (opens in new tab)
ADDRESS
The Palestinian Museum
Museum street (off Omar Ibn Al-Khattab Street)
Birzeit
VIEW GOOGLE MAPS (opens in new tab)