We tour Thomas Phifer's completed Glenstone Museum in Potomac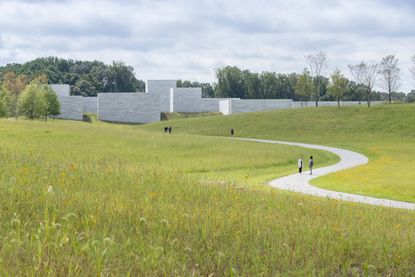 (Image credit: Iwan Baan)
Cast among the McMansions of Potomac, Maryland – an affluent suburb of Washington DC – Glenstone is an improbable gem, a sprawling estate of 230 acres owned by art collector Mitchell Rales and his wife Emily. In 2006, the couple opened the grounds to visitors on an appointment-only basis, with the main attraction a modest gallery designed by the late Charles Gwathmey. As the Raleses added to their extensive holdings of contemporary and modern paintings and sculpture, their modest proto-museum was swiftly outgrown, and so they began casting around for ways to expand.

They undertook a worldwide search. 'We looked at fifty museums', says Emily Rales, a trained art historian and curator. Finding themselves particularly inspired by Denmark's Louisiana Museum and the Menil Collection in Houston, the Raleses proceeded to commission a new, $200-million facility from New York-based architect Thomas Phifer. The result, opening next month, is an extraordinary experiment in landscape, architecture and art, with almost 14,000 sq m of exhibition space set around a serene central courtyard.
'We wanted to create an experience that was completely immersive', says Phifer, 'so that when you see the art, you just go weak at the knees'. The designer achieved this effect through the use of highway-grade concrete slabs stacked into a series of vertical blockhouses, each containing a separate gallery featuring the work of artists as varied as Jackson Pollock, Lygia Pape and Jean-Michel Basquiat. Opting for a material palette that was 'not too precious', Phifer was still able to give the surface a little life by allowing natural patinas to form on each individual slab, achieving a visual pattern the architect likens to 'a mosaic'.

Complemented by lushly-planted hills and pathways from landscape firm Peter Walker and Partners, the new Glenstone is part of an emerging vanguard of privately-held museums for big-name collectors no longer content to gaze at their work in contemplative solitude. What this trend augurs for the future of the artworld is anyone's guess – though Glenstone's patron sees his own project as a bellwether that's already proven its potential, with more to come. 'This isn't the beginning, and it's not the end', says Mitchell Rales. 'We're somewhere in the middle'.
INFORMATION
For more information visit the website of Thomas Phifer and Partners
Receive our daily digest of inspiration, escapism and design stories from around the world direct to your inbox