Still life: the Glenstone Museum's extension aims for a calming experience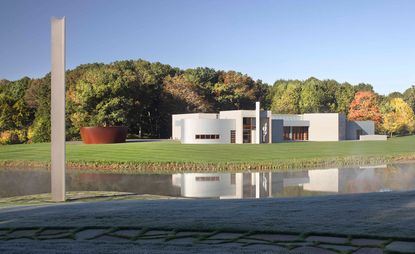 (Image credit: Scott Frances)
In this age of intense stimulation overload, it's encouraging to see a museum heading in the opposite direction. Thomas Phifer and Partners' addition to the Glenstone Museum, set to open late next year in Potomac, MD, just under 15 miles from Washington DC, is as much about meditation and serenity as it is about art and culture.

The project increases the complex's exhibition space from 9,000 to 59,000 sq ft, and adds about 130 acres of pastoral, tree-filled landscape by Peter Walker and Partners. Glenstone's initial facility was completed by Gwathmey Siegel & Associates in 2006.

After parking their cars, visitors approach the addition, a cluster of structures known as The Pavilions, via a ten-minute walk across a rolling, wildflower-filled meadow, up a slight ridge. Phifer calls this promenade 'a quieting experience'. He notes, 'Everything starts to slow down. You feel the topography as you make your way forward.'

You then reach the new complex, a dozen cast concrete rooms of varying configurations, partially embedded in the earth, interconnected by a glass clad passage wrapping around a central water court. Some of these still, timeless-feeling pavilions— lit gently from above via clerestories and skylights— will be dedicated to single artists, others to rotating exhibitions. But all will allow you to quietly commune with the work, secluded from the city, the immediate vicinity, and even, for a moment, the other sections of the museum. The final pavilion contains a viewing area to take in the expanded pasture land, which includes more than 6,000 new trees and over 40 species of plants.

The museum's collection centres on an elite selection of post-World War II paintings, sculptures, photographs, installations and multimedia works from over 200 artists, including John Baldessari, Jasper Johns, Richard Serra, Cy Twombly, Ellsworth Kelly, Louise Bourgeois, Dan Flavin, Michael Heizer, and many more. Its founders, Mitchell and Emily Wei Rales, visited 50 museums worldwide to learn lessons from each.

'We wanted to understand what great was,' says Mitchell Rales, who sought to distance his museum from the crowds, hype and noise that have infiltrated so many contemporary cultural experiences. 'I think people want more calm in their lives,' adds Phifer, his soothing voice belying this contemplative approach.

The addition also includes a new arrival hall, offices, two cafes, a centre that highlights Glenstone's sustainability efforts, and monumental public art from the likes of Jeff Koons and Tony Smith. Admission to the museum will remain free.
INFORMATION
For more information visit the Thomas Phifer and Partners website (opens in new tab)