Frank Gehry's latest office building at Facebook's Menlo Park HQ opens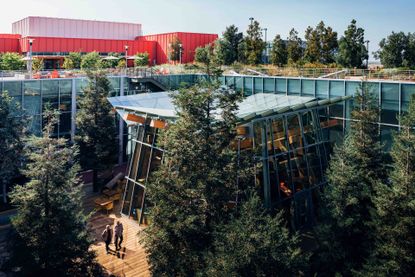 (Image credit: designed by Frank Gehr)
A new office building at Facebook's headquarters at Menlo Park by Frank Gehry has opened. Named MK21, the office building was designed and built in less than 18 months and has a focus on sustainability.

The building is an extension to MK20, a previous building that completed in 2015. 'All the things we learned doing building 20 prepared us for building 21,' says Gehry in a video released by Facebook on the project. 'We were getting lessons in Facebook culture and we're making a new kind of architecture within that culture.'

Among the improvements and enhancements to the extended design, rooflines were updated to bring in more natural light, the roof garden was brought down into the office space and the circulation was concentrated to the heart of the building into a central channel.

Aiming to have a minimal impact on its environment and bring back nature to its formerly industrial context, MK21 includes a reclaimed water system – designed to save approximately 17 million gallons annually. Solar power supports activities at MPK 21, where there is a 1.4-megawatt photo-voltaic solar panel system on the roof and on the carports.

Nature and wildlife are embraced by the design that features fritted windows to protect birds as well as a 3.6 acre rooftop garden featuring over 200 trees and a half-mile meandering pathway, helping employees to unwind and relax.
Other outdoor social spaces filled with green plants and scenic landscape design include the 'Town Square', a sheltered green space with soaring 12m-high redwood trees, while 'The Bowl' is a courtyard designed like an amphitheatre to connect MPK 21 with the earlier deisgned MPK20, also designed by Gehry.

The office interior was designed with teamwork and collaboration as a priority. The offices are open plan, yet also include designated areas for quiet, independent work. A single pathway runs the length of the building like a stem connecting each part of the office. Following the path will unfold five dining rooms, 15 art installations and a vast event and meeting space.

Facebook continues to add to the Menlo Park hub and plan the completion of a two-acre park with public plaza and event space for 2019. This will also include a bike and pedestrian bridge over the Bayfront Expressway for the whole community.
INFORMATION
For more information, visit the Gehry Partners website (opens in new tab)