A piece of history: residential sales about to launch at the BBC's former home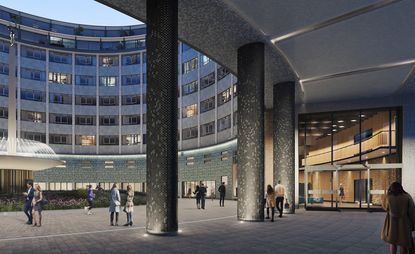 (Image credit: televisioncentre.com)
It was the end of an era when the BBC announced its departure from the Television Centre in White City, London. Designed by architect Graham Dawbarn, this symbolic building had hosted the national broadcaster since 1960 and quickly became a treasured national icon, which represented the rich legacy of British media and culture.

Since its closure in 2013, the site was acquired by London-based property developer Stanhope, who is currently in the midst of transforming this collection of historic buildings into a mixed-use scheme. The site will soon house an array of apartments, communal grounds, a private screening room, as well as the newest outpost of the luxury members club and hotel, Soho House.

Reaching completion in 2018, the development is hoping to kickstart White City's transformation into a creative hub for West London, with the Televisions Centre creating 950 new homes, whilst still preserving the construction's structural integrity that hints to its rich broadcasting history. Project architect Paul Monaghan from the London-based AHMM ensured that the site's aerial view will still resemble its original question mark form, and promised the conservation of other iconic elements, such as the site's original stage door and the exterior facade's famous atomic dots.

'Some of the greatest broadcasting moments of our lives, came from this place', says Alistair Shaw, managing director of Television Centre. He adds that the history and relevance of the 14 acre site was of a pivotal importance in the design process.

Unveiling today the first set of recently completed show apartments, Monaghan explained his passion and vision for the project. Interior designer Suzy Hoodless was responsible for kitting out the apartments with intricate detailing and a palette of specially selected furniture and custom artworks.

The first wave of units launches for general sale on the 23 April. A number of residences however have already been snapped up by various national and international buyers, proving that people are clamoring to get their hands on their very own piece of British Broadcasting history.
INFORMATION
For further information on the Television Centre development, visit the website